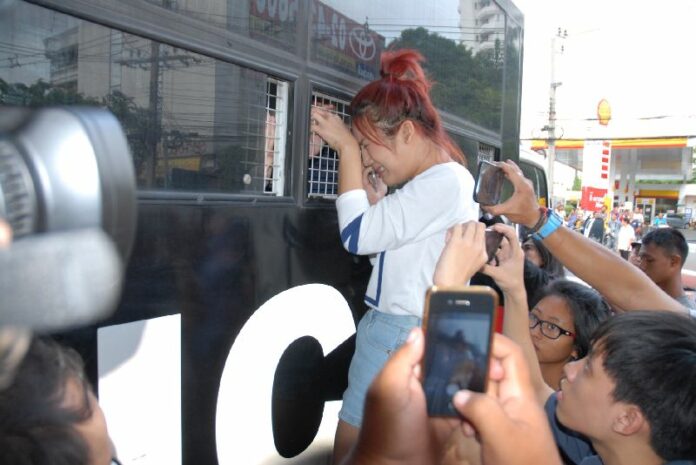 BANGKOK — Police have arrested the fourteen activists who defied the junta's ban on protests and led a pro-democracy demonstration in Bangkok yesterday.
The activists, most of whom are university students in their early 20s, were arrested this evening at Suan Ngern Meema hostel in Bangkok's Charoen Nakhon district, where they had been staying for the past two days.
Police and army officers entered the hostel, which is owned by the prominent historian Sulak Sivaraksa, at around 5:30pm with arrest warrants approved by a martial court. The activists were taken in police vans to Phra Ratchawang Police Station.
According to the arrest warrant, the group, known collectively as the Neo-Democracy Movement, violated the military junta's Order 3/2015, which bans public gatherings "for political purposes" of more than five people.
The activists are also accused of violating Section 116 of the Criminal Codes, which outlaws causing "unrest and disaffection among the people in a manner likely to cause disturbances in the country."
They are now facing trial in martial court, where military officers serve as judges and appeals are not permitted.
The fourteen activists are Rangsiman Rome, Chonticha Chaeng-rew, Ratthapol Supasopon, Songtham Kaewpanpruek, Pornchai Yuanyee, Pakorn Arrekul, Abhisit Sapnaphana, Jaturapak Boonpatararaksa, Apiwat Suntararak, Payu Bunsophon, Panupong Srithananuwat, Suwitcha Thipangkorn, Supachai Pukrongploy, and Wasan Sethsitthi. The latter seven are members of Dao Din, a social justice group formed by law students at Khon Kaen University.

The students singing an anti-coup song in front of Bangkok's Democracy Monument on 25 June 2015.
Yesterday, the activists announced the formation of their group, the Neo-Democracy Movement, and marched along Ratchadamnoen Avenue, the site of numerous political protests and uprisings in Thai history.
To the surprise of many, security officers trailed the activists throughout the demonstration but did not attempt to arrest them.
All fourteen activists are also facing charges of violating the junta's orders for staging events on the one-year anniversary of the May 2014 coup in Bangkok and Khon Kaen. Police had ordered the activists to surrender by 19 June, but the fourteen refused to do so in what they referred to as an act of "civil disobedience."
For comments, or corrections to this article please contact:[email protected]
You can also find Khaosod English on Twitter and Facebook
http://twitter.com/KhaosodEnglish
http://www.facebook.com/KhaosodEnglish