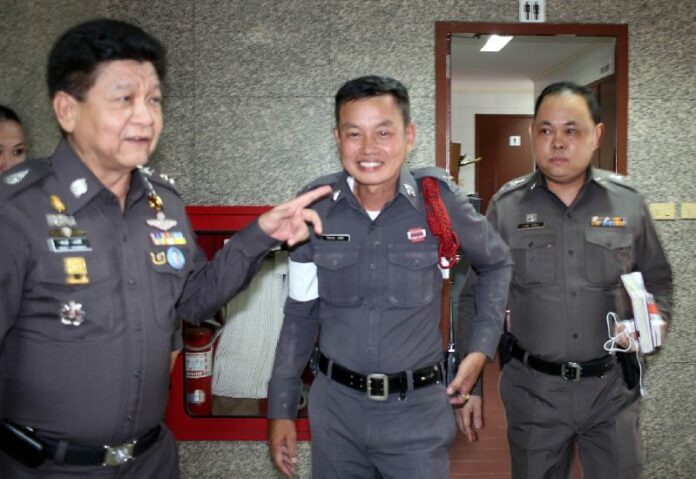 BANGKOK — Thai police are investigating a traffic cop who was filmed admitting that he was "a little bit drunk" while manning a road checkpoint in Bangkok last week.
The video, filmed on a phone and posted on social media over the weekend, shows the officer speaking incoherently to a motorist who he waved down at the checkpoint, prompting the driver to ask if he was drunk.
The following is an excerpt from their conversation:
Officer: I am drunk, but I don't drive!

Motorist: But you are a cop. You are on duty.

Officer: I know.

Motorist: So you're really drunk?

Officer: Well, a little bit drunk.
The officer then scolds the driver for recording the encounter, and challenges him to "go ahead and share it" on social media.
The original version of the video was later deleted, but not before it was widely shared on social media.
Several hours after Thailand's police chief announced that officers were investigating the incident this morning, Pol.Sen.Sgt.Maj. Chakkrawan Wongchai identified himself as the traffic cop in the video.
After speaking to Pol.Sen.Sgt.Maj. Chakkrawan in private, police spokesperson Pol.Lt.Gen. Prawuth Thawornsiri said an investigation committee is still looking into whether Chakkrawan was drunk while he was on duty.
Chakkrawan's colleagues reportedly told Pol.Lt.Gen. Prawuth that he often "sounds like a drunk person" when he speaks. Nevertheless, Pol.Lt.Gen. Prawuth said he has established that Chakkrawan "spoke inappropriately" to the motorist.
"At the same time, we are trying to contact the person who recorded and published this video clip, so that he can provide us with information about what happened," Pol.Lt.Gen. Prawuth said. "We want to know about what was said during the inspection, whether there were harsh words spoken on both sides."
He added, "Recording videos is not illegal, as long as it doesn't damage other people or spread false information."
Speaking to reporters this morning, police chief Pol.Gen. Somyot Pumpanmuang noted that "this is not the first time" citizens have published videos of policemen behaving inappropriately.
"If this is indeed a wrongdoing, we will punish him without giving him any exception, because it is very inappropriate," Pol.Gen. Somyot said.