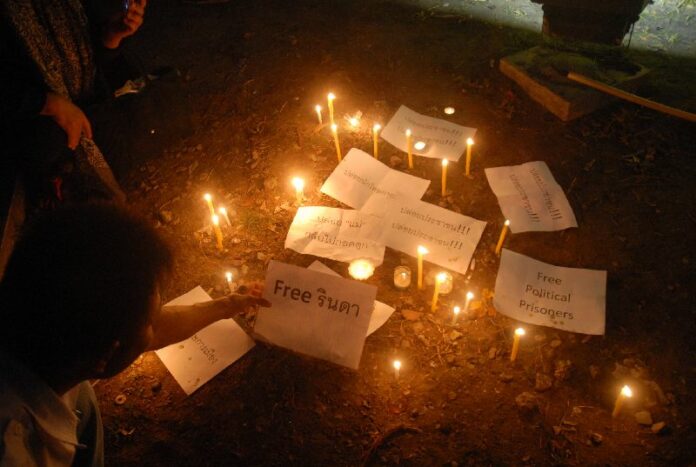 BANGKOK — A martial court has reversed its ruling to allow a single mother to be released on bail while she awaits trial for allegedly spreading a rumor about junta chairman Prayuth Chan-ocha.
Police say Rinda Paruechabutr, 45, started a spurious rumor on social media that Gen. Prayuth had transferred 10 billion baht to an offshore bank account in Singapore. She is facing up to twelve years in prison on charges of violating the Computer Crime Act, inciting unrest, and causing panic.
She was arrested on 9 July and kept in prison for three days after Bangkok's martial court ordered her to be jailed while she awaited trial.
However, the court issued a new ruling today to approve Rinda's request for bail, setting her bond money at 100,000 baht, Matichon reported. The judge reportedly said Rinda was unlikely to flee the country, and had to take care of her two children outside the prison.
Rinda became the sole guardian of her children, ages 7 and 16, after her husband passed away in 2012.
Police say she belongs to a local chapter of the Redshirt movement – which opposed the May 2014 coup – in Pathum Thani province.
Under the conditions of her release, Rinda is barred from leaving the country or participating in any political campaigns.
The ruling came after 30 people gathered outside the entrance to Bangkok Remand Prison last night to hold a vigil for Rinda and what they described as "other political prisoners." The gathering was organized by several pro-democracy groups, including the New Democracy Movement, Resistant Citizens, and Thai Lawyers for Human Rights.
Arnon Nampha, a human rights lawyer and member of Resistant Citizens group, said he joined the rally to insist that civilians not be sent to stand trial in martial courts.
Gen. Prayuth's decision to grant military courts jurisdiction over all cases that "affect national security" has been widely condemned by human rights groups. At least 140 civilians are currently facing trial in martial courts, where military officers sit as judges and appeals are not possible.
Songtham Kaewpanpruk, a member of the New Democracy Movement who attended last night's rally, told reporters he believes the junta should listen to criticism from the people.
"We demand that Mrs. Rinda be granted bail. She's not a threat to any national security," said Songtham, who is facing a separate trial in military court for participating in a pro-democracy demonstration last month. "She's just a small woman. She has not done anything evil, like stage a coup."
A representative of the protesters read a joint statement urging authorities to drop the charges against Rinda, and to "give justice to all political prisoners." The statement also demanded Gen. Prayuth step down from his position as Prime Minister to take responsibility for the deterioration of civil rights in Thailand under his military regime.
Security officers observed the rally without interfering until the protesters dispersed peacefully from the scene at around 8 pm.
Speaking to reporters today, government spokesperson Maj.Gen. Sansern Kaewkamnerd denied that Rinda was a "political prisoner."
"This matter is not about politics, even though some people try to fan the news that she is a [prisoner] in political case," said Maj.Gen. Sansern. "She is involved in criminal offense for defaming other people."
He said Gen. Prayuth is concerned that false allegations about government agencies or national figures could damage Thailand's reputation abroad.
"Gen. Prayuth has insisted that things will only improve only if the country is stable and has earned confidence from inside and outside Thailand," Maj.Gen. Sansern said. "Everything is connected. Therefore, I ask every side to be more conscious about doing this sort of thing, because it will affect the confidence of people inside and outside the country."
At a police press conference last week, Rinda said she posted the message after someone texted in to her through the chat application LINE, but insisted that she had no intention to damage the country.
"I think that, as a citizen, I have the rights to criticize and express my opinion, since the Prime Minister is a public figure," Rinda said. "But I concede that my words affect other people. So I'd like to warn other people who use social media to be careful, because this is a sensitive issue."
For comments, or corrections to this article please contact: [email protected]