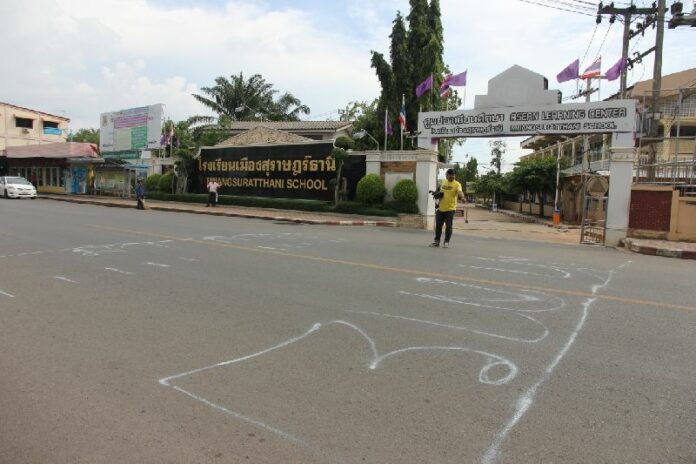 SURAT THANI — After months of filing fruitless petitions, parents of high school students in southern Thailand shamed officials into painting a crosswalk in front of the school in a single day – by spray-painting their own mock zebra crossing.
Photos of the mock crosswalk, which was drawn with white spray paint that also spelled out "THIS IS A ZEBRA CROSSING," surfaced on social media yesterday and quickly went viral.
Locals told reporters that the crosswalk was a painted by parents of students at Muang Surat Thani School who have repeatedly urged local authorities to paint a zebra crossing on the road to increase pedestrian safety.
At around 2 pm, city workers arrived at the site and finally painted the official crosswalk. The operation was accomplished within several hours.

Officials painted a standard zebra crossing in several hours on the followin day, 29 July 2015.
According to the head of Surat Thani Municipality Office's infrastructure department, Banluesak Wutthi, authorities had been unable to paint the crosswalk because of a dispute with contractors.
"The paint used by the contractors didn't meet our standards, so the committee could not accept it," Banluesak said. "The issue is still being appealed by the contractor."
He said officials decided to solve the problem today by borrowing paint and tools from the Highway Department to paint the zebra crossing themselves.