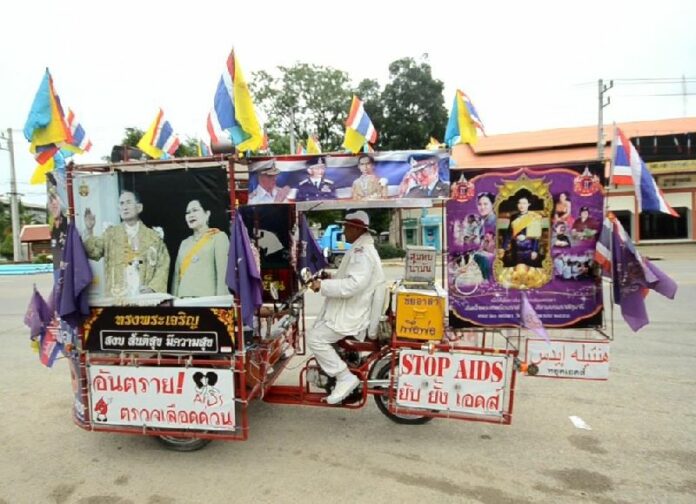 RACHABURI — A 52-year-old man is raising awareness about HIV/AIDS in Thailand by driving his motorized tricycle from Rachaburi province to Bangkok for the government's "Bike for Mom" cycling event in August.
Nattapol Thongwan set out on his journey this morning in a rickshaw covered with portraits of the royal family, and banners encouraging people to get tested for HIV/AIDS.
He is planning to drive through several provinces and arrive in Bangkok on 16 August for the "Bike for Mom" event organized by the Thai government on behalf of Crown Prince Vajiralongkorn to honor his mother, Queen Sirikit, who will turn 83 on 12 August.
According to official statements released to the press, more than 30,000 cyclists are expected to join the 43 km route from Royal Plaza to a military base in northern Bangkok, led by the 62-year-old Crown Prince himself.

Nattapol Thongwan, 52, with his 'Bike For Mom' rickshaw in Rachaburi province, 31 July 2015.

Nattapol told reporters in Rachaburi province today that he has been involved in local campaigns to reduce HIV/AIDS since 1992.
"From that day to this present time, which has been around 23 years, I helped by spreading news about the danger of AIDS to the people, so that they are aware of this disease," Nattapol said.
According to data provided by the Ministry of Public Health in 2014, around 438,000 people are living with HIV/AIDS in Thailand.
Nattapol also praised the government for organizing the "Bike for Mom" event because it is an opportunity for Thais to show their loyalty to the monarchy.
"If many people come out to join the event, it will show how much the people love [the Royal Family]," Nattapol told reporters.