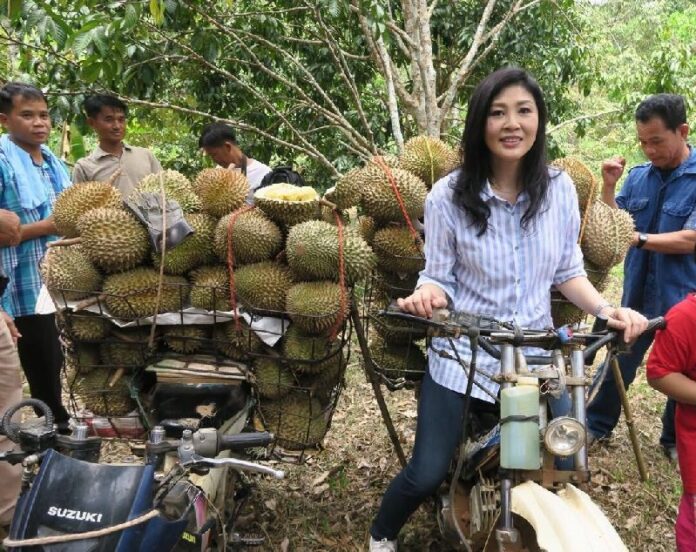 BANGKOK — In a rare expression of political opinion, former Prime Minister Yingluck Shinawatra today wrote about her concerns over Thailand's new constitution, which is being drafted under the auspices of the ruling military junta.
Yingluck, who headed the government toppled by the junta in May 2014, posted the statement to her official Facebook page, a space usually reserved for photos of her trips to markets, temples and personal gatherings.
Below is Khaosod English's translation of Yingluck's statement in full:
Image of today's Facebook post by former Prime Minister Yingluck Shinawatra.
"I'd like to exercise my right to present my opinion about the constitution, because this is the time when the NRC [National Reform Council], the government and the NCPO [National Council for Peace and Order] will make their decisions, and many sides have expressed their concerns and worries.
I hope that my opinion will help our country to be more democratic and more widely accepted.
The constitution must be democratic. Many people have heard me use this word many times. But I believe we may have had different interpretations. Essentially, it means "a democratic constitution has to be reliant on the people," which is, we have to open the process so the majority of people can play important roles in voting and making decisions – instead of merely selecting the candidates that have already been screened by a group of people. That is not considered a truly democratic way.


If the constitution's content and essence really serves the people and relies on the people, there is no need for the Committee of Reform Strategy and National Reconciliation, which will have power over the government and legislature to make decisions on behalf of the people. Even in crisis, the best thing to do in a democratic regime, which is accepted by all civilized nations around the world, is to have confidence in the people and return the power to make decisions to the people. That is the solution for the country.

Therefore, the burden on those in power is to urgently push for roles that are fair, free of fraud and accepted by all sides, in order to return normalcy to Thai society soon, so that the people can exercise their rights, choose candidates and policies to solve the problems in accordance with their beliefs, as they wish.

Returning the right to make these decisions is for the dignity of the people in democratic regime.


Peace and prosperity are the shared wish of the entire nation.

In order for a country to be peaceful, there needs to be fair rule. Our society has learned many lessons in the past, from conflicts that are bred from unfair sets of rules, and problems of justice not being equally dispensed to all sides.

Therefore the constitution should create an opportunity for everyone to access equality, and arrange the state to facilitate justice on all sides, in order to preserve happiness and reconciliation in the society.


Our country has been enough adversely affected and damaged. So, I'd like to ask all relevant people to please prioritize building confidence, equality and justice throughout all the land and to push for this country to return to normalcy as soon as possible.

The longer we delay this will not do us any good, especially in terms of the economy and livelihood which are urgent matters that need to be addressed right now. It will only cause damage and aggravate the suffering of people.

With my deepest concern."
Yingluck is a younger sister of Thaksin Shinawatra, former Prime Minister and the de facto leader of the Redshirt movement. Thaksin was removed from office in a military coup in 2006, and has been living in self-imposed exile since 2008, shortly before a court convicted him of corruption.
With support from the Redshirts, Yingluck was elected in 2011 in a landslide victory. She headed the government until protests erupted in November 2013, after her government attempted to pass an amnesty law that would have dissolved her older brother's corruption conviction and paved the way for his return to Thailand.
Although the anti-government protests were initially focused on opposing the amnesty bill, emboldened protest leaders broadened their movement into a campaign seeking the ouster of Yingluck and her entire government. When she dissolved the House in December and called a snap election, protesters boycotted the poll, demanding that an unelected government be established to implement reforms in Thailand before any election can be held.
Eventually, in early May, the Constitutional Court removed Yingluck from office on the grounds that her cabinet unfairly transferred an official from his post in 2011. The military staged a coup against the remnants of her government two weeks later.
Yingluck has been keeping a relatively low profile since the military takeover, partly complying with the junta's ban on all political activities. Nearly of all her public appearances have been private or family visits to markets, temples and other nonpolitical social gatherings.
Her last strongly-worded statement was issued in January after the junta-appointed interim parliament found her guilty of corruption and banned her from participating in politics for five years.
Related stories:
'Chaos' Clause Empowers Unelected Panel to Seize Power
Full English Text of Yingluck's Post-Impeachment Statement
To reach us about this article or another matter, please contact us by e-mail at: [email protected].