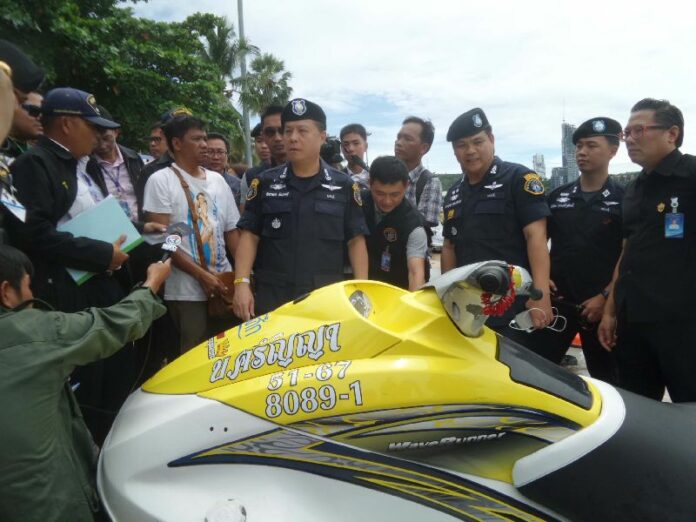 CHONBURI — More than 30 people have been placed on watchlist in the latest police effort to combat the notorious "jet ski scams" which have plagued the resort town of Pattaya for years.
A combined force of officers from Bangkok's Crime Suppression Division, Marine Police, Tourism Police and Pattaya City Police Station visited Pattaya Beach today to canvas and question operators of jet ski rental businesses in the area in the most recent bid to rein in a practice which targets travelers.
Police Maj. Gen. Akaradech Pimonsri, director of the Crime Suppression Division, said police have received complaints about jet ski scammers extorting large sum of money from foreign tourists by claiming they had damaged their vehicles.
"We will combine forces from all agencies to be serious about inspecting, monitoring and preventing these problems," he said. "We will coordinate with local authorities to set rules … to ensure fairness for society and tourists," he said.
More than 30 owners and staff of jetski businesses on Pattaya Beach suspected of being involved in the scam will be monitored for further infractions, Akaradech said. If there is further evidence of wrongdoing, they will be blacklisted by the authorities and may face prosecution.
He also pledged to "escalate" police efforts to enforce the laws to make sure that "no one will be allowed to behave themselves above the laws."
No arrest was made in today's visit to the beach.
The jet ski scam is a long-running extortion that has been well documented among foreign travel writers. Its notoriety is rivalled by the "Grand Palace is closed" scam in Bangkok.
Authorities have announced numerous "crackdowns" on the extortion scheme, which is also a problem on Phuket. No concrete results were ever achieved. Khaosod English counts three such crackdowns announced in the past year alone, not counting today's visit by the Crime Suppression Division.
To reach us about this article or another matter, please contact us by e-mail at: [email protected].