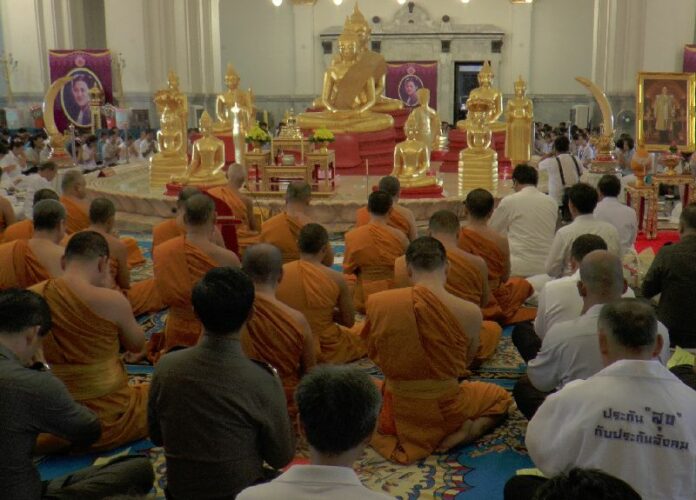 BANGKOK — Princess Chulabhorn has called upon all Thais to pray for her father, King Bhumibol, who is being treated for blood and lung infections at a hospital in Bangkok.
The princess, who is His Majesty's fourth and youngest child, put the call out during a speech to staff members of a royally supported medical charity in Chachoengsao province on 14 Sept.
"I'd like Princess Mother's Medical Volunteer Foundation staff and all Thais to recite the prayer of Pochangkaparitra for His Majesty the King and pray for the King to recover from the illness that is afflicting him right now," Princess Chulabhorn said.
Pochangkaparitra is mentioned several times in Buddhism's holy scripture – the Tripitaka – as a prayer that can cure disease and illness.
King Bhumibol at Bangkok's Siriraj Hospital in an undated file photo.
The 87-year-old monarch has been residing at Siriraj Hospital for more than three months, after being sent to the hospital for what the palace described as a routine check-up in May. The Royal Household Bureau later announced that the king was being treated for water on the brain.
This past weekend the palace added that the king was also afflicted with lung and blood infections, and doctors noted he had a fever.
His condition somewhat improved yesterday, according to the latest announcement issued by the palace. It said that the king has not had any fever since Tuesday morning, while the levels of infection had also decreased.
Answering the princess' call, Chachoengsao authorities held a mass recital of Pochangkaparitra this morning in honor of His Majesty the King.
King Bhumibol is currently the world's longest-reigning monarch, having been on the throne for 69 years. His frail health is a cause of anxiety for many Thais, who credit him with bringing stability to the kingdom.
To reach us about this article or another matter, please contact us by e-mail at: [email protected].