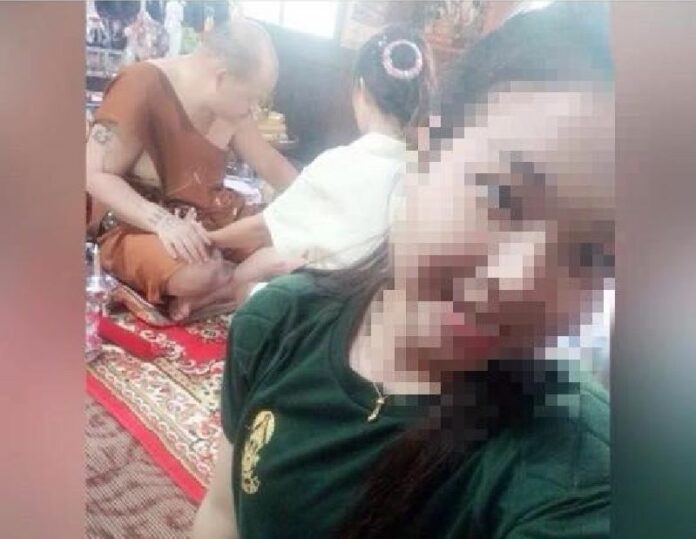 CHIANG MAI — For touching a female schoolchild during a horoscope reading, a monk in the northern province of Chiang Mai has formally reprimanded by Buddhist authorities.
The Office of National Buddhism's regional chapter issued a warning Monday after online skeptics posted a photo said to be of a monk at Wat Baan Koh Luang giving a palm reading to two schoolgirls in his residence, one of which he held by the hand.
"Please squeeze my hand, and tell me I'm not dreaming today," read the mocking caption posted to the Facebook page Fuck Ghost, a group dedicated to debunking superstition in Thailand, quoting a pop song.
Buddhist dogma bans monks from touching women or spending time with them in private.
The Saturday post prompted Chiang Mai's branch of the state agency governing Buddhist affairs to issue a statement Monday that giving horoscopes, especially to women, is inappropriate for monks.
Narong Song-arom, director of the agency in Chiang Mai, said the statement has been sent to local temples to ensure that such incidents will not happen again. He added that the monk seen in the photo posted by Fuck Ghost has been reprimanded for his action.
"We have reprimanded the monk and instructed him not to repeat his action – giving horoscope reading, especially to women." Narong said.
The incident came two weeks after the national film authority ordered a horror film about a misbehaving novice to be censored, citing concerns that depicting misbehavior by holy men may cause divisions and "social chaos."
The film, originally called Arbat (Sin of a Monk), was slated to feature scenes of a novice drinking alcohol, smoking cigarettes, getting high on weed, having sexually explicit conversations, being violent and disrespecting Buddha images.
The film production company, Sahamongkol Film International, responded by cutting scenes censors deemed offensive and changing the name to Arpat. Satisfied with these changes, the censor board ruled Oct. 16 the film could be screened.
Many internet users expressed incredulity at the censorship, pointing out that monks breaking their vows by having sex with women, taking drugs or flaunting material wealth, are common, and their antics are often reported in national news.
"So, this is a scene that was cut from the movie, right?" a Facebook user commented in the Fuck Ghost thread about the girl-touching, fortune-telling monk.
Related news:
Horror Film May 'Destroy' Buddhism, Activists Warn
Studio to Recut Movie Banned for 'Defaming Buddhism'
Renamed, Recut 'Arbat' Tops Box Office
To reach us about this article or another matter, please contact us by e-mail at: [email protected].
Follow Khaosod English on
and
Twitter
for news, politics and more from Thailand.