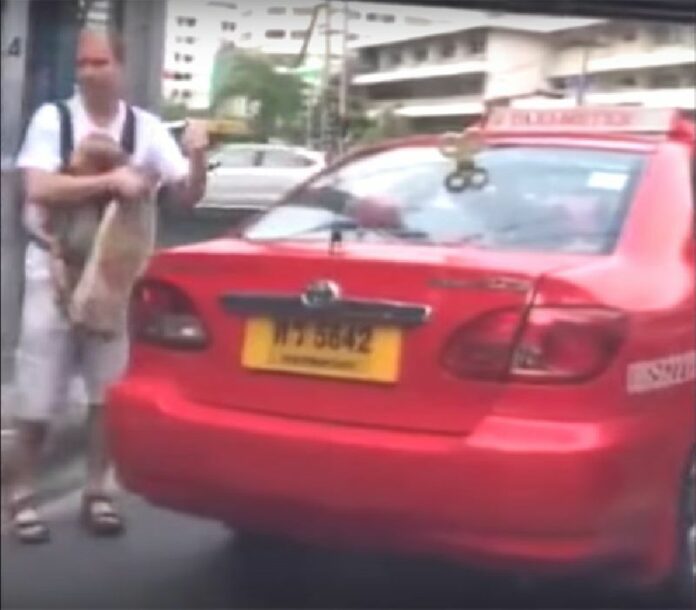 BANGKOK — A taxi driver was fined 1,000 baht and suspended for 15 days today after a viral clip spread of him smoking with a baby in the car.
Driver Sakda Kanthachan was named and shamed by transportation officials today, two days after a clip posted online showed an annoyed man wearing a baby exit the taxi at an intersection. The driver can be smoking in the clip, but there was otherwise no indication why the passenger was upset.
That's when the internet stepped in to assume, not unreasonably, the driver had refused to stop smoking.
"He should not smoke when he has passengers in his car," Facebook user Sirirat Sornkit wrote in a comment. "Whether he has passed the training or not, this is something his brain and wisdom should know."
Responding to the rage of the net, the Department of Land Transport today said it had tracked Sakda down using the license plate number seen in the video.
He was fined 1,000 baht for smoking while driving.
Because the passenger was a foreigner and video went viral, optics-sensitive officials deemed his action defamed the nation's image and ordered Sakda to attend three hours of service training and suspected his license for 15 days.
His permission to drive will be forever revoked if he is found guilty again.
Passengers facing transportation problems were encouraged to call the department's 24-hour hotline at 1584.
To reach us about this article or another matter, please contact us by e-mail at: [email protected].
Follow Khaosod English on
and
Twitter
for news, politics and more from Thailand.