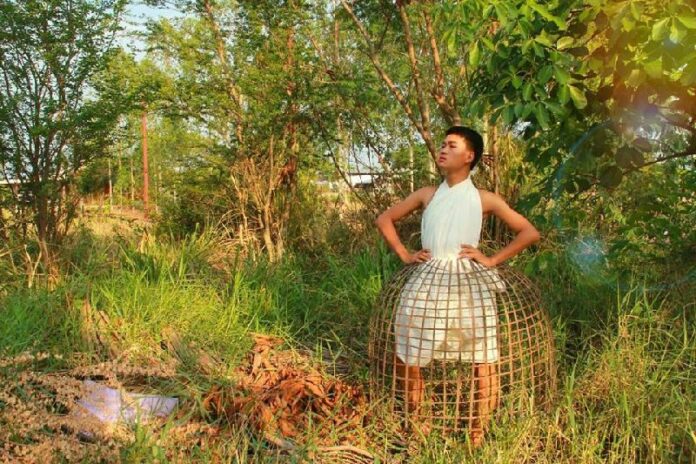 BANGKOK — A schoolboy fashionista from Khon Kaen, retired man etched with wrinkles and a sex worker with disproportionate breasts. Yes, it will be a big night at Alliance Francaise Bangkok later this month.
First up is the schoolboy, the weird and 15 and wonderful Madaew, who will travel from Khon Kaen with some friends to put on a fashion show at "In Your Face."
Part of Galleries Night, the Nov. 27 installation features 400 projected portraits by 20 French and Thai artists.
Curator Myrtille Tibayrenc said that while portraiture has been around for centuries, they capture something completely different today than those of the 16th century, as portraits reflect the social ideals, economics and aesthetics of human society.
She contrasts the work of Kathmandu Photo Gallery's Manit Sriwanichpoom with those of French artist Cyril Caine, who photographs patients of reconstructive facial surgery.
"[Manit] shot photos of Hi-So women in parties, very luxurious, wearing expensive clothes, drinking champagne," Tibayrenc said. "Contrasted to French artist Cyril Caine's [subjects'] complete loss of faith from accidents and disasters – getting plastic surgery to become human again."
Courtesy image, copyright Benjamin Mengelle
Courtesy image, Cyril Caine
Portraits from both artists will be among those projected at "In Your Face."
Myrtille said the medium of projection is one way to question the aesthetics of human beauty. All of the portraits will be projected onto a gigantic screen to literally get in your face.
The event is part of Galleries Night, a two-night event unfolding along downtown transportation corridors featuring special events at various arts and culture venues.
"In Your Face" is supported by the French Embassy and will run from 8pm to midnight on Nov. 27 at Alliance Francaise. Madaew performs from 10 to 10:30pm. There will be booze pouring and music flowing from Toot Yung resident DJ Marine.  Entry is free.