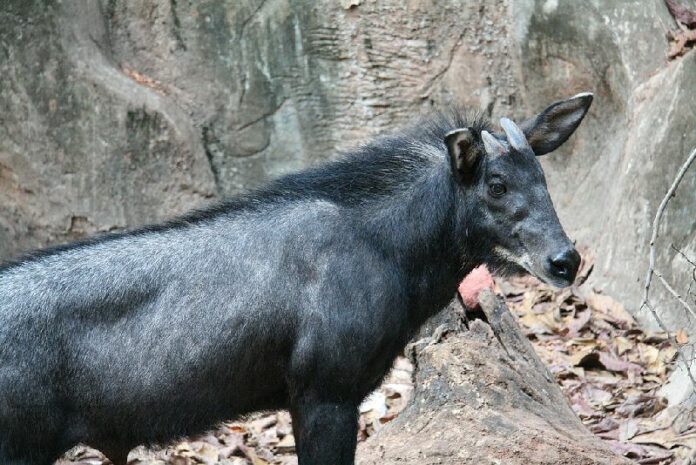 UTHAI THANI — While most families must visit a zoo to see a serow, a rare type of goat-antelope, one simply bolted into the bedroom of a home in central Thailand on Thursday night.
Suwanna Puengket said the vulnerable and protected species leapt through the windows of her daughter's bedroom as she was playing guitar at about 7:30pm on Thursday and wandered around the residence until officials arrived to tranquilize it.
"My daughter and I were very frightened, so we ran outside and shouted for our neighbors to see what the creature was," Suwanna said. "I thought it was a buffalo."
Only 1,000 to 1,5000 serows are thought to live in the wild in Thailand.

A hastily captured photo of the home-invading serow Thursday in Uthai Thani province
Suwanna said she soon realized it was a serow, and her neighbors phoned the local wildlife protection agency.
Officials from the Thungyai Naresuan Wildlife Sanctuary later arrived at Suwanna's residence, tranquilized the seerow and brought it to the sanctuary.
Serows are classified as a reserved wild animal under the Wildlife Preservation and Protection Act of 1992. In December 2013, animal rights activists were deeply disturbed by violent video footage of cement factory workers beating a serow to death in Saraburi province.