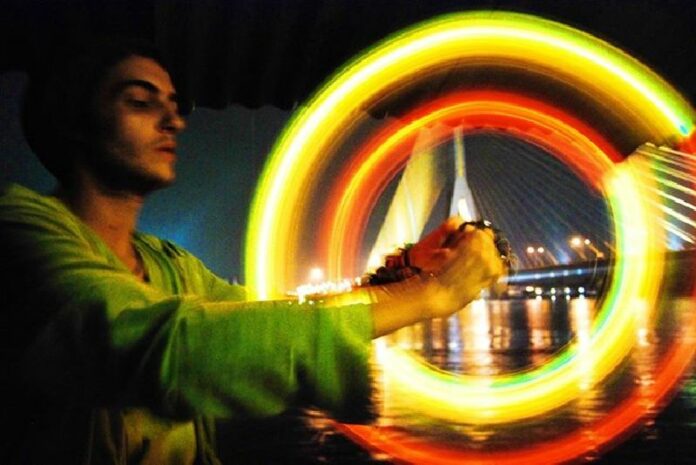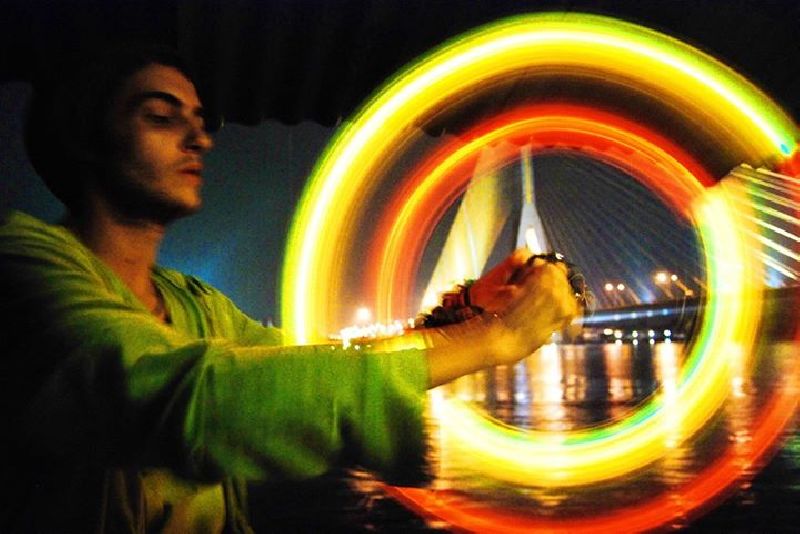 By Lisnaree Vichitsorasatra
Staff Reporter
BANGKOK — In 21st century Bangkok, gallery hopping is the new bar hopping, just follow the BTS Skytrain to special events at dozens of venues.
We don't mean nodding your head at stuff hanging on walls, but live performances, kinetic light shows, martial arts, provocative fashion, music and interactive digital installations at nearly 40 venues Friday and Saturday evenings 7pm until midnight along the BTS Silom and Sukhumvit lines.
The Friday night tour follows the Silom line and riverside areas, while Saturday cuts through downtown along the Sukhumvit line, with all venues in walking distance or river ferry. Got an iPhone? Get around easily with an app to navigate it all.
Some Friday highlights include: Explore the surreal "Hidden City" of painter and sculptor Theerapon Rurngpaisitporn in the Rotunda Gallery at the Neilson Hays Library. For some motion and light, art bar Jam hosts an experimental lighting installation "to call the heart of shadow." The walls of the French Embassy will come to life while the sculptures will be naked at Whitespace Gallery, where French artist Helene Le Chatelier's snapshots will evoke inner fragility.
Theerapon Rurngpaisitporn will be one of the artists showing his work at Bangkok's Galleries Night
Like boat rides? The Ferry Gallery is a floating gallery that will also transport people to a variety of venues located along the Chao Phraya river. The Ferry Tour will go around Chaophraya River night tour starting at 7 pm and closes at 10:30 pm.
On Saturday, another 19 venues rotate in. Dress tribal or bring an instrument to Training Grounds for "Kilombu: Chapter 1," where 1,200sqm of murals have been painted by one artist and visitors can participate in "obstacle courses, indigenous sports, dance and martial arts."
A cadre of local artists will converge on Rebel Art Space for a mixed media installation and live performance. Tour the world from a bird's eye view at La Lanta Fine Art, where Argentinean artist Federioc M. Winer will exhibit "Ultradistancia."
Also among the 38 participating venues are Pandora Art Gallery, Koi Art Gallery, HOF Art Space, Soy Sauce Factory and RMA Institute. For a full run-down visit Galleries Night on Facebook.