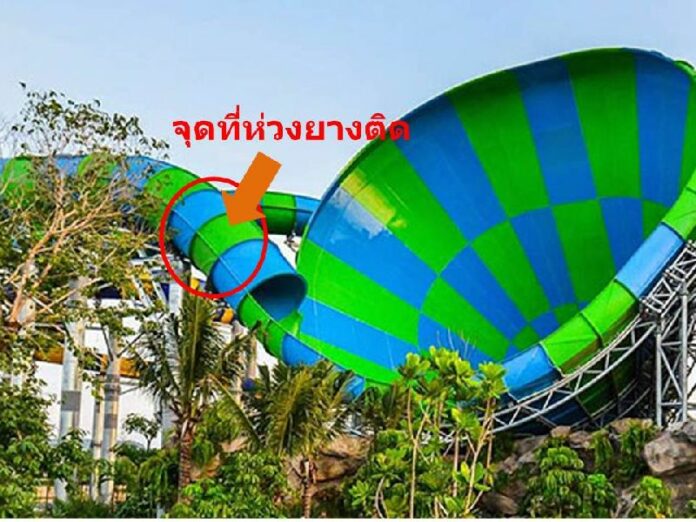 HUA HIN — A water park adventure became too thrilling for tourists stuck in the nation's biggest water slide Tuesday in Hua Hin.
A visitor of Vana Nava Hua Hin took to Pantip last night to document the watery misadventure he suffered Saturday with three friends on a ride called the "Abyss." Prior to being jettisoned into an enormous funnel, their raft got stuck in a tube due to suction from a pipe. After two hopeless minutes shouting for help, they were rammed and pushed out into the funnel by another raft carrying two ladies.
"I was on the curve of the falling abyss," the unnamed user wrote, floridly. "My raft fell down in the strong momentum, which almost made me and my friends slip over the slide."
The park's management blamed the incident on a negligent employee.
Though the six tourists arrived safely to the ride's end, the user said he was disappointed with the park's safety standards.
The issue immediately drew the scrutiny of the internet, where questions were raised about the responsibility and safety of water parks, which have increased in number in recent years.
Vana Nava today issued a statement that it fired the responsible employee. It claimed the staff member neglected to follow its rules, which require monitoring a CCTV camera inside the funnel and communicating with lifeguards under the slide before letting a new raft float.
"The incident happened because of the carelessness of the staff who control the traffic of the water rafts," read the statement.
The attraction, called "Abyss," is purported to be the largest water slide in Thailand and reaches speeds of up to 45kph in a huge water tube.
The company claimed their design and operation is up to international standards.
To reach us about this article or another matter, please contact us by e-mail at: [email protected].