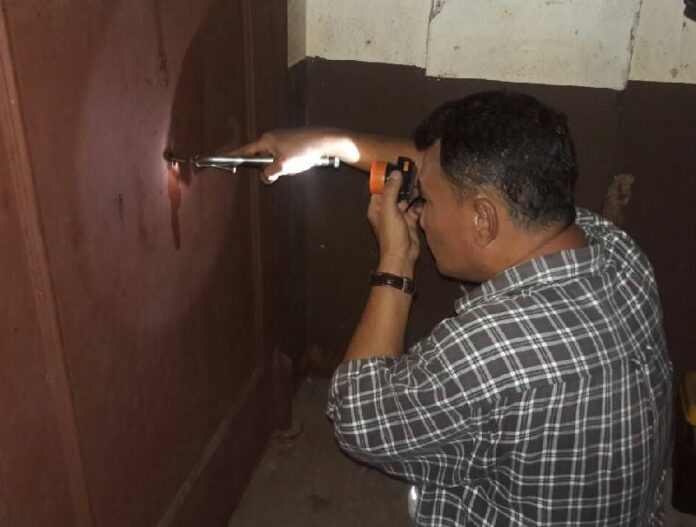 NAKHON SI THAMMARAT — The world will soon learn what secrets lie within a sealed (and well-locked) repository under a century-old former bank building in Nakhon Si Thammarat province, a self-avowed master locksmith vowed today.
Sitthisak Rooprasert arrived at the historic building in the Thung Song district this morning and told reporters his team needs only three days to break open the vault's complicated and rusty locking mechanism, which for days has frustrated attempts by local officials and lesser locksmiths.
"I confirm that I can open it, because this work is my specialty," Sitthisak said.
---
Lust for Riches Fuels Bid to Crack Antique Vault
---
Only one of four pins inside the lock can be moved, Sitthisak said; two others are too rusted while the third is "coded" and immovable.
Picking the lock comes at a price; Sitthisak said he needed 25,000 baht to gently open the lock, and 15,000 baht if he can brute force it open by destroying the lock altogether.
Fevered speculation over what's inside the vault has been building since the safe room was discovered Sunday beneath the 108-year-old building, which reportedly once served as a local branch for Siam Commercial Bank.
The 108-year-old building in Nakhon Si Thammarat province on Sunday where the underground vault was discovered.
Thung Song mayor Songchai Wongwatcharadumrong today again ruled out any attempt to blow the vault door open because he believes the 108-year-old building needs to be carefully preserved due to the its history and architectural significance.
Songchai said the building will be restored as a part of the province's project to preserve its historical and cultural heritage. Some experienced instructors from Silpakorn University have been invited to help, Songchai said.
Related news
Lust for Riches Fuels Bid to Crack Antique Vault