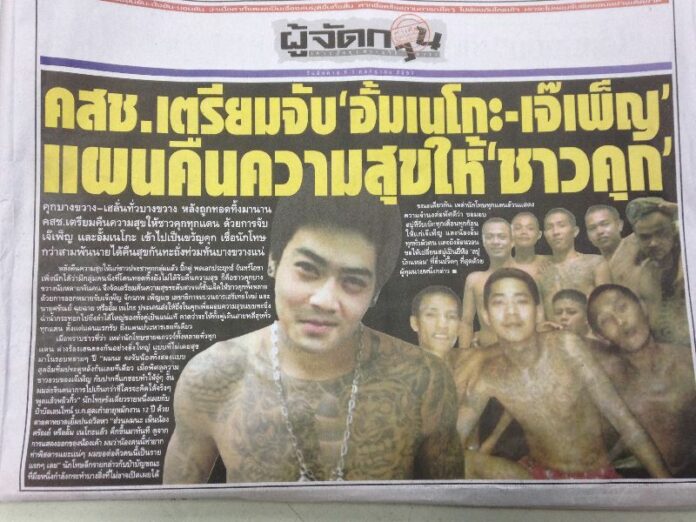 BANGKOK — They get called many things, from "homo gangsters" (gang mai pa diew gun) to "conniving ladyboys" (katoey saab). Even more offensive are disparaging labels such as "finger-obsessed" (lhong datchanee) and "anal-lovers" (raboet suam).
The "they," however, are not schoolyard bullies, but mainstream media outlets watched and read by millions of Thais each day.
Two terms in recent news reports have troubled Kangwan Fongkaew, a media professor at Burapha University: "finger-obsessed" and "yellow club." The former is a derogatory term for lesbians while the latter is for gay men. It refers to the color of feces.
"For Thai media, lesbians are just fingers, and gay men are just feces," Kangwan said Monday as the the release of a report he prepared examining how the LGBT community is portrayed in mainstream media.
Despite great gains made in recent years for the LGBT community, domestic media in Thailand are stuck in the past, using outdated and offensive stereotypes, marginalizing groups with offensive nicknames and limiting representations of them to comic, sensational roles, according to a report from Burapha University with the financial support of the United Nations Development Program.
A review of 870 news items from six major news agencies found abundant and repetitive use of offensive language and stereotypes, including "tee ching" (slang for lesbian sex), "so desperate that she is dating a lesbian," "cocksucker," "fails to hide his femininity, "fake pussies," and "buffalo-sized ladyboys who scam the world."
The report was based on a review of news reports from Thairath, Matichon Weekly, Gossip Star, Bangkok Post and Voice TV collecting between July 2014 and June 2014. It found 870 items mentioning LGBT individuals or issues.
Researchers found the vast majority – 70 percent of such reports – were tabloid stories involving celebrity, fashion, or other light-hearted matters, while only about one third contained serious reports on issues such as civil rights, laws and education.
Kangwan noted that a large portion of that serious news was actually lifted from "hard news" is in foreign news reports about matters in other countries.
What disturbed the researchers, however, was not as much the coverage ratio, but the casual and frequent use of offensive or demeaning language, as well as representations relying heavily on cultural stereotypes.
Although Kangwan did not specify which agencies used which terms, a quick search online finds "homosexual gang" turns up in a crime story by Manager from Jan. 10; while "finger-obsessed" and "yellow club" can be found in stories by Gossip Star from March 22, 2012, and Oct. 7, 2015, respectively.
Kangwan said he's also frustrated by crime stories which almost always mention the gender or sexual identity of people involved in the headlines despite being irrelevant to the story. In fact, just this week, all mainstream newspapers in Thailand ran stories referring to suspect in an alleged scam as "the cunning ladyboy" in headlines.
"They like to brand transgenders with stigmas," Kangwan said. "They use words like 'cunning katoeys,' or 'cruel toms,' but they never describe hereosexual suspects in the same way. There's no 'cunning straight guys' in the headlines."
Other common examples include stereotypical, comical portrayals in news stories, the report found. Katoeys are always emotional. Gay men are always sex-crazed. Queers are, without exception, funny.
Anoporn Khruataeng, who also wrote the paper, said she doesn't blame reporters for these faults. It is the media owners, executives and editors, she said, who should be educated about ethics concerning LGBT issues, because they are the people making the decisions about what's written in the paper.
"We talked to many reporters. They told us that even when they get things right, their work was edited by their supervisors. So that means that it's the people with power in the agencies who don't understand these issues," Anoporn said.
From her experience, those media gatekeepers are not interested.
"We once wrote complaints to the media, but we never received any response," she told reporters at Monday's news conference. "That means you don't care about us at all."
Another contentious issue raised is the refusal by many mainstream newspapers to call subjects in the news by their preferred genders. Transgender women are still called "Mr." by nearly all Thai-language agencies.
Not to say it's limited to Thai-language media. A transgender student provocateur known as Aum Neko complained publicly in December 2013 about being referred to as "Mr." in reports from the Bangkok Post, despite contemporary press norms. After her complaints spread over social media, the paper edited the stories online.
Commenting on the research paper on Monday, Thammasat University lecturer Chalidaporn Songsamphan advised media agencies to stop perpetuating common prejudices to their readers, and instead take a more pro-active role in dispelling those stereotypes.
"The media like to say that their job is to serve as a mirror to the society, and reflect its values. But if this is true, we won't be able to change society at all," Chalidaporn said.
Clarification: This story has been updated to reflect the report was commissioned by the United Nations Development Program.