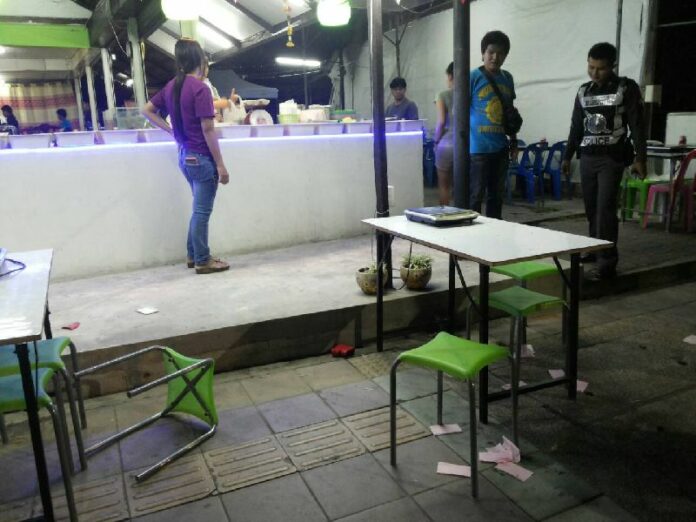 KORAT — When an electric hot plate at a restaurant in the northeast of Thailand exploded and injured four people, it shocked many as a routine and familiar action gone horribly wrong. Today investigators said it will take at least a week to find out it happened.
After four customers were injured Monday when an AJ brand stove exploded at a hot pot (shabu shabu) restaurant in Nakhon Ratchasima, restaurant owner Thananya Mahachupond said the device wasn't even plugged in at the time. Representatives from the police and the manufacturer said they are both investigating the incident, which will take up to a week.
"Right now, we have not concluded the cause," said Yotkrit Asana, a representative of Crown Tech Advance, which makes and sells AJ stoves.
Restaurant owner Thananya said they've stopped using electric hot plates.

The AJ stove in question that reportedly exploded Monday night, injuring four customers at a restaurant in Korat.

"For now, we switched from electric stoves to charcoal grills, for safety the and confidence of customers," Thananya said.
The exploded stove has been sent to forensic police for examination, she said.
Yotkrit, the representative of the stove manufacturer, said police indicated their investigation would take four days. After that, the stove will be sent to the company for a two day inspection.
Crown Tech Advance said there was no reason to recall its AJ stoves as it has received no other reports of malfunction.
"We have sold tens of thousands of this item. This is the first case that we ever encountered," Yotkrit said. "It's also an extraordinary case, because the restaurant owner said it wasn't even plugged in."
The company will foot medical bills for the four customers injured by the explosion, he added.