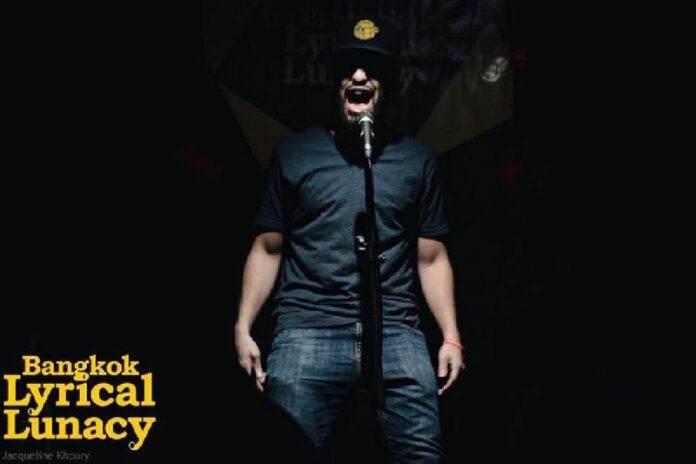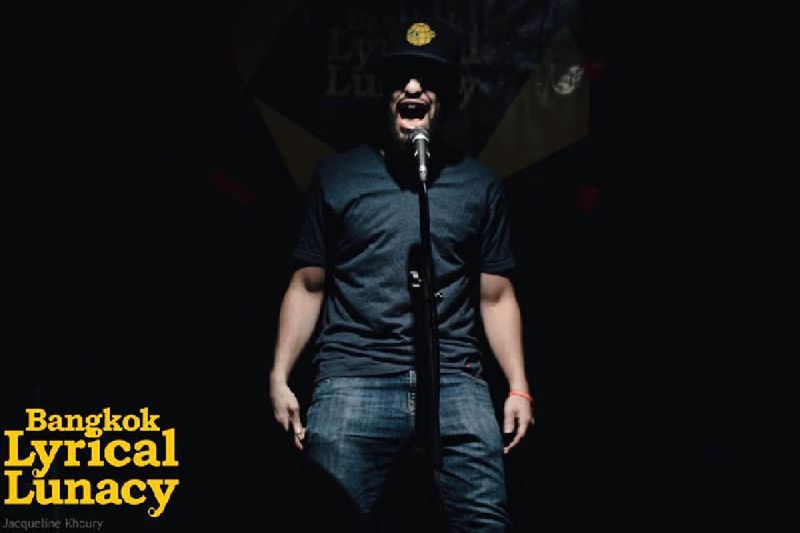 BANGKOK — On a recent Thursday evening a throng of people in everything from hipster duds to business suits descended on a Bangkok bar for spoken word poetry ranging from an acerbic-yet-catchy limerick aimed at an ex to a poignant open letter to someone's late father recited in poetic meter.
With spoken word, storytelling and poetry growing in popularity in recent years, semi-regular events such as Bangkok Lyrical Lunacy at Overground Bar & Cafe and Bangkok Poetry see participants take the mic to pour their heart out to the crowd.
The man who hosts Lyrical Lunacy is Pablo S. He requested his last name not be used (some kind of government paranoia), but in this community he's known by his alter ego, Leroy Jenkonius III. I sent him some questions about the burgeoning scene, and he wrote back with some answers.

---
CP: What is Bangkok Lyrical Lunacy and how did it come to be?
LJ: Bkk LyLu (Bangkok Lyrical Lunacy) is a community of artists who gather regularly to perform their art. We put on open mic shows a few times a month that have a heavy focus on spoken word poetry but there aren't any restrictions as to what one can perform at the show. In addition to spoken word poets, we have musicians and stand up comedians who regularly perform. Every so often we might have someone come and read a short story, usually we tell people that they have five minutes to fill with whatever they wish to perform.
The way we got started was quite simple. Basically a small group of spoken word poets got together about two years ago and decided we needed a place to regularly perform if we want to build a community and culture around this art.
CP: What is spoken word?
LJ: For the uninitiated, spoken word poetry is poetry that is written with the intention of being performed onstage before an audience. Delivery of a spoken word piece is just as important as the written content. The art form can incorporate elements of storytelling, comedy, drama to be used as a vehicle to share a certain point of view, deliver a poignant message, or just to entertain the audience.

CP: Spoken Word is becoming a thing in Bangkok, how big is the culture?
LJ: Spoken word is slowly becoming a more respected art form in Bangkok. The culture is still quite small but has consistently been growing over the two years we have been putting on shows. The main challenge has been the general unfamiliarity with the art form and the culture. Most people who attend shows for the first time come expecting it to be a calm and relaxed poetry reading and end up surprised to see that we've established a culture of rowdy loud-mouthed poets, musicians, etc. who one day might perform an artfully crafted and prolific piece about humanity's addiction to fossil fuels, then might come back the next time around and perform a piece laden with a slew of "fucks" just for the fuck of it.

CP: How does one become involved?
LJ: To get involved you just show up, it's quite simple. If you would like to perform, show up early enough to sign up for an open mic slot before they are filled up. If you would like to just watch, show up early enough to find a seat. In terms of what sort of people attend, its everyone.

CP: What's in store for the local scene?
LJ: As far as the spoken word scene goes, the goal is to grow it. This year was definitely a great one in those terms because the talent pool of spoken word artists has evolved immensely. Performers who just a few short months ago were reluctantly taking the stage and shaking in front of audiences now have grown into powerhouse performers who command those same audiences and lead them on emotional journeys. Those same poets inspire more people in the audience to follow suit and being able to witness that occur is just awesome.

CP: Poetry is often overlooked in Thailand. How is Bangkok Lyrical Lunacy changing that?
LJ: Poetry might be an overlooked art form in the city but it definitely commands a very loyal following. We might not appeal to the throngs of revelers who flock to places like RCA, but there is a steadily growing community of people who would love a night out that doesn't involve getting hammered in a loud, dark flashing room filled with strangers you will never have anything past surface-level conversation with. We prefer to get hammered while building lasting relationships!
But Bkk LyLu (Bangkok Lyrical Lunacy) isn't the only regularly occurring poetry event in town, Bangkok Poetry is an example of another amazing poetry focused event that happens in Bangkok and if you ever attend one of there shows, you will see how easily they fill up venues with people hungry to see fellow humans express themselves.

CP: What are some of the major themes covered in your new EP release?
LJ: So the EP entitled "Sallsavage," is a tale of a warrior finding it within himself to dismantle every obstacle set before him. The major themes of the project I would say are self-love, freedom of thought, and the dismantling of power structures that thrive off taking those away from us.
So I wouldn't say that there are any parallels to any struggle brought on by the situation in Thailand because if you pick up any newspaper here, it's pretty clear that everyone is extremely happy.

CP: How does life in Bangkok play into your work?
LJ: My life in Bangkok is definitely an inspiration for the project, in the short time I've spent in this city. But the main inspiration for the project […] came from getting to know people the people who live here. […] I have gotten the opportunity to speak to and get to know all kinds of people, and one thing I've come to realize is the lack of love that so many of us all have suffered from. I'd say that is the main inspiration of the project. We live in a city filled with 6-point-something million people, and when you're surrounded by that many humans, a shortage of love should definitely be the last problem anyone faces.

To reach us about this article or another matter, please contact us by e-mail at: [email protected].