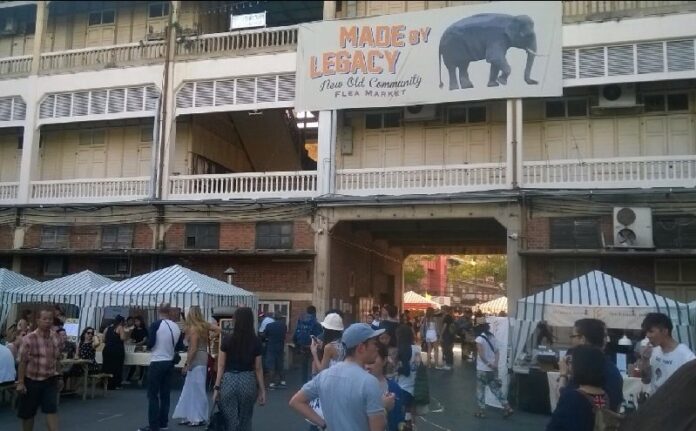 BANGKOK — Judging by the number of hipsters and regular folk attending the latest two-day 'Made By Legacy' Flea Market which ends today, there's a seemingly insatiable desire by some to dress-up for their vision of a perfect-world.
For men this includes wearing the ubiquitous vintage Rolex Submariners on NATO or vegetable-tanned leather watch straps, putting on old military or vintage work clothes and slipping into Shell Cordovan loafers from venerable American shoemaker Alden.
Women who flock to the temporary market, taking place in a state railway garden, have more choices as any boho vintage or retro dress seems to be socially acceptable.
The camera of choice here is not digital, but old SLR cameras or a pre-digital Leica.
Not all visitors are as pedantic or eccentric with their fashion, however. This is no black tie-only event and the only thing required by the organizer is that visitors pay a 120 baht entrance fee. However a good number of customers, including throngs of hipsters, just wanted to blend in with the surroundings: dilapidated low-rise industrial buildings.
Also, judging from the goods available at arguably the temporary flea market in Bangkok with the best-reputation, it's always nice to look the part.
Traders and Their Wares
Rows of dealers selling vintage clothes can be perused in this open air-area. The purveyors comes from various places in Bangkok such as Siam Gypsie Market, Ekamai and Thonglor. As a bonus, there are about a dozen or so stalls staffed by Japanese expats selling knickknacks and even food like ramen, mochi (rice cake) and more.
Hand-stitched leather wallets and other items can be found at the booth by 'Sew & Needle'. Their individually-made craftsmanship competes for attention with another stall offering bespoke denim service run by a Canadian man.
Some vintage industrial furniture is also for sale, although the selection is rather limited.
Music by DJs and bands in the evening add to the vibe, while food ranges from home-made Ham & Cheese Salad Sandwiches by Maison Jean Phillipe from Thonglor (220 baht a pop) to 390 baht for a mini Truffles Pizza. As basic drinking water is 20 baht per bottle and craft beer costing 240 baht a pint, the market is definitely not catered to the hoi polloi.
Old habits die hard and many people simply left their trash on the old oil drums that served as impromptu dinner tables. This was despite the fact that there were trash bins by the tables.
It's not clear if such a highbrow flea market is a desperate reaction to Bangkok mall-shopping, a yearning for an imagined hip-outdoor-shopping community or both.
Call it the pretension of the upper-middle class in wanting an imagined and sanitized Brooklyn or Portobello market, or just another place to get good booze and engage in people watching. Made By Legacy, which is usually held two or three times a year, is undeniably a reminder that there's more to Bangkok than the posh air-conditioned mega mall shopping experience, however.
Note: Made By Legacy's last day at the current location is from early afternoon today till midnight. A free shuttle bus, bearing an elephant logo, is provided by the organizer and available from Hua Lamphong Train station to the site. The entrance fee to the market is 120 baht.