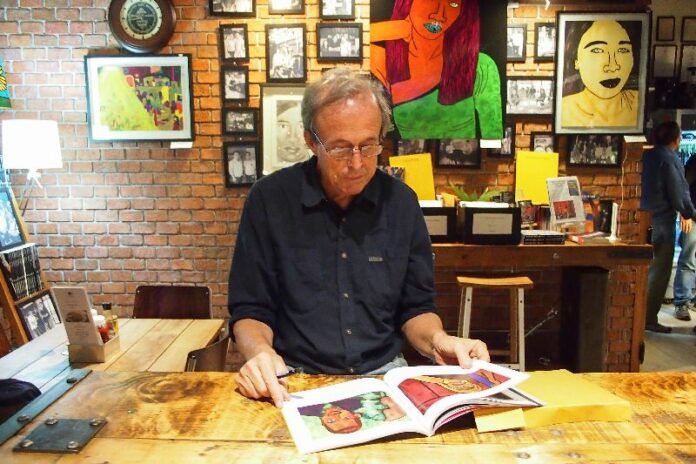 BANGKOK — Lurid is the first word that comes to mind when absorbing the portraits and nightscapes of painter Chris Coles.
Not just for the vivid and feverish colors, but the late-night scenes of barflys, sex workers and the "informal economy." In recent years Coles has painted prolifically and built a following online and off.
On Thursday, a crowd of around 30, mostly older expat men, gathered at Bangkok's Brainwake Cafe and Gallery on Soi Sukhumvit 33 for the American painter's exhibition "Flowers, One Butterfly and the Bangkok Night." Many were writers and journos (whom Coles engages heavily with on social media) and John Gartland read one of his poems from "Bangkok, Heart of Noir," a book featuring Coles' paintings.
Where the subject matter could come off as creepy, Coles paints with a gleeful honesty that avoids romanticism. The patina of white male desperation offsets the Orientalism at play in a body of work preoccupied with foreign men and Asian sex workers. Many figures' grins are indistinguishable from grimaces. They're all mad here, swerving between anguish and ecstasy.
There is anachronism in its focus, given the Bangkok of 2016, as it plays into those arguably tired stereotypes of Thailand and Southeast Asia.
But it's the darker aspects of it all that is alluring to Coles, who doesn't seem the type to be thrilled by sexploitation, more than he is enamored of the darker recesses of the human heart.
"They get delivered like a pizza," Coles blurted out somewhat grimly during a discussion Thursday of sexually trafficked women he's met the region.
I sent some questions to him. Here's how he replied:
KE: The "Bangkok Noir," as you describe your work, often involves the purveyors or patrons of the flesh trade. A lot of farang with eyes somewhere between lust and lost. What draws you to that?
CC: Nightlife/sex business has often been used by artists. Paris around 1900, all the famous artists painted nightlife, nightlife workers. Same with Berlin 1920s, 1930s. … I think because there's so much color, so much exaggerated behavior, so many characters suffering. Humanity revealed.
KE: What do you see in a subject that makes you want to paint them?
CC: I like looking at all kinds of art and design, but my favorite art by far is German Expressionist art and the French Fauvists who came before them. I love the wild use of color, the distortion, and that the German Expressionists had a social context in their paintings, not just abstract, not just "decoration." Berlin 1920s and 1930s [saw a] rise of Fascism, authoritarian rule, social disintegration, alienation and dysfunction, like a volcano erupting.
That's what drew me into painting the Bangkok Night such wild colors, lighting, neon, so many different people, characters, larger than life, exaggerated, from all over the world [and] behaving badly in all sorts of ways.
'Closing Time Nana Plaza' Photo: Courtesy Chris Coles
KE: Are your subjects as deranged as they often appear, or do you take some license? Like, is there that much depravity out there, or do you turn up the volume?
CC: I don't want to make a "copy" of "reality" in a "realistic style." Realism is boring. …I want to look past the surface into the dark deep interior where all the forbidden and ugly human stuff's going on.
The human animal is so bad, not well-intentioned, not "nice" at all. Humans kill, murder, maim, torture, rape millions of other humans,traffic other humans,buy and sell other humans, brutally exploit other humans. In my Bangkok Night paintings, I try to capture the true nature of humanity, not the "pretend," "nice" side of the human animal.
KE: What is new in "Flowers, One Butterfly And The Bangkok Night"?
CC: Oh, I was just thinking there's something in common between the Night Business and flowers and butterflies. The girls working in the night are like pretty flowers, pretty colors, nice shapes, pretty costumes, nice smell, makeup and hair. All are to attract the human male, who's like a butterfly flying around looking for pretty flowers. So I thought combining flowers, butterflies and Bangkok Night paintings would be kind of interesting, fun and illuminating.
"Blue Butterfly in the Bangkok Night" Photo: Courtesy Chris Coles
KE: Which came first, spending a lot of time in bars or finding subjects to paint?
CC: First came a lot of pencil/graphite portraits of people's faces. I was fascinated by the genetic diversity of Bangkok and Southeast Asia. So many interesting faces.
When I came to Thailand the first time, I was doing a big Hollywood movie. … Naturally, people would go out at night: bars, night clubs, restaurants. Waves of neon, lighting, faces from all over the world, pretty girls, ladyboys, rent-boys, the smell of all sorts of food, the new pop music of Thailand and Asia just washed over me. I'd never been in Asia at all before. I said to myself, "Hey, something's going on here. Things are changing at the speed of light. A volcano is erupting. This is a special moment in Southeast Asia."
KE: That side of Bangkok seems to be rapidly disappearing, as a new generation of migrants and residents replaces it with Quinoa salad joints, artisanal cafes serving single-sourced brunches and fitness centers. How do you feel about that?
CC: There are many layers and aspects to modern Bangkok. And as you point out, increasing prosperity. … But the Thonglor/Ekkamai side of modern Bangkok is only one slice, there are many other slices as well, from very high billionaire level to very bottom-end, dark, horrible level.
'Midnight Patpong' Photo: Courtesy Chris Coles
KE: How long have you been in SEA? Do you still split your time between Cambodia and Thailand? How would you say the city/night cultures have evolved relative to each other?
CC: I'm based in Bangkok. Upper Sukhumvit. One of the nicest urban big city districts in the whole world, but I go around a lot. … [A]nd yes, every city, country, culture has its own style of nightlife which reflects many of the unique aspects. … For instance, nightlife in 20 million-person Jakarta is radically different from nightlife in Bangkok. Phnom Penh too. Same with Singapore, Saigon, Shanghai, Beijing, or New York, London, Paris. Nightlife reveals so much. It's where the secrets float to the surface.
KE: What's next?
CC: I'm off to Saigon in a few weeks. Saigon's changing at the speed of light. Vietnam's changing at the speed of light, very different from Bangkok. So far I haven't figured out what to paint or how to paint it, but I'm working on it. I need to spend more time there.
Also, more paintings away from the nightlife business. More flowers, butterflies, maybe even fish! Here's one I did called "Male Fish Swimming Around Ratchada Fishbowl Looking for a Female Fish." Kind of a playful joke on Ratchada's giant massage palaces, and Thai guys always swimming around there looking for females.
'Male Fish Swimming Around Ratchada Fishbowl Looking for a Female Fish' Photo: Courtesy Chris Coles
Coles work is available from his online gallery. He's also published "Navigating the Bangkok Noir," a photo book featuring more than 100 paintings of the lost hearts and souls of Bangkok.
To reach us about this article or another matter, please contact us by e-mail at: [email protected].