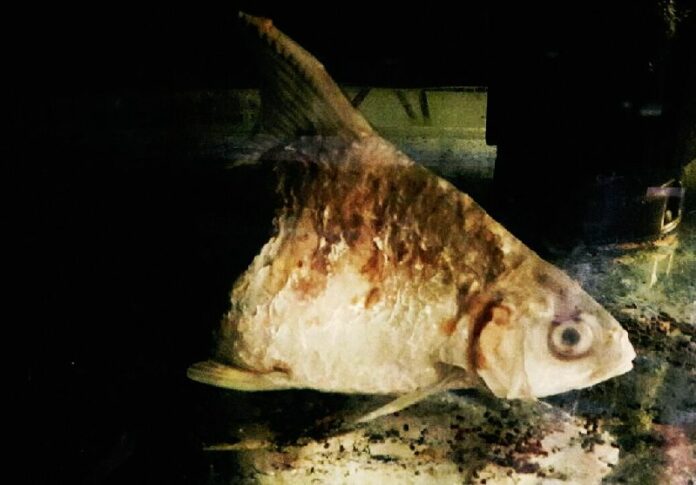 RATCHABURI — A local celebrity fish in Ratchaburi province died over the weekend after living without its back half for seven months.
Months after its rear half literally rotted away, the fish died Saturday, said its owner, Watcharapan Chotipradith, who plans to preserve its body and put it on display at his pet fish shop so that the public can admire its determination to survive.
"I want tourists and members of the public to see it," Watcharapan told reporters Sunday. "It symbolizes a fish's will to fight for its life, even though its body is imperfect."
According to Watcharapan, the fish, named Chao Boon Krueng (The Blessed Halfling), lost half of its body after suffering an accident in a fish pond about seven months ago.
Watcharapan said Chao Boon Krueng smacked its spine when it jumped out of the pond and landed bodily on cement. With its spine broken, necrosis set in and the back half of its body rotted away because of the severe injury, Watcharapan said.
In spite of its condition, Watcharapan decided to keep the fish alive and display it in front of his shop in Ratchaburi's Fish Village Market. The fish soon caught attention from locals and the press, becoming a sort of local celebrity. Chao Boon Krueng made national news in December.
Speaking to reporters yesterday, Watcharapan said he has contacted Veterinary Medicine Faculty of Mahidol University to help him preserve Chao Boon Krueng's body for posthumous public display at his shop.
To reach us about this article or another matter, please contact us by e-mail at: [email protected]haosod.co.th.
Follow Khaosod English on
and
Twitter
for news, politics and more from Thailand.