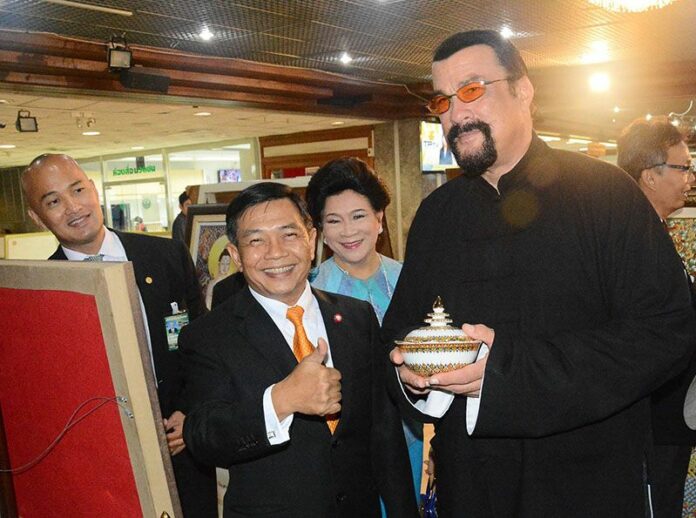 BANGKOK — Like in many '80s action films, it's the story of a bygone master who's laid down his weapons in seek of peaceful pursuits.
Except this time, it seems Steven Seagal won't be forced into the reluctant hero role to battle injustice when he returns to film something in Thailand.
Seagal, 64, paid visit to the junta-appointed reform council in Bangkok today to express his desire to make not just one, but two, movies about Thailand and its culture, according to the body's deputy chairman, Alongkorn Pollabutr.
"He intends to make two films using locations in Thailand," Alongkorn of the National Reform Steering Assembly told reporters. "It will be a public relations effort for beautiful Thailand, such as its locations, cultures, arts and martial arts."
Alongkorn said promoting Thailand through foreign films is consistent with his agency's strategy to improve the national creative economy.
The deputy chairman also described Seagal as an actor with "longstanding ties" with Thailand.
"Mr. Steven practices Buddhism, and he loves and respects His Majesty the King," Alongkorn said.
Seagal shot to fame in the late 1980s, but went from action-movie hero to direct-to-video zero less than a decade later.
In 2003 he brought a production to Thailand to film "Belly of the Beast," a film best remembered for launching the international career of then-lakorn princess Sara Malakul Lane.

Steven Seagal and Sara Malakul Lane during filming of 'Belly of the Beast' Photo: Sara Malakul Lane / IMDB
Related stories:
Star Wars Inspires Tourism Chief To Use Force of Filmmaker Refunds
Teeranai Charuvastra can be reached at [email protected] and @Teeranai_C.
Follow Khaosod English on Facebook and Twitter for news, politics and more from Thailand. To reach Khaosod English about this article or another matter, please contact us by e-mail at [email protected].