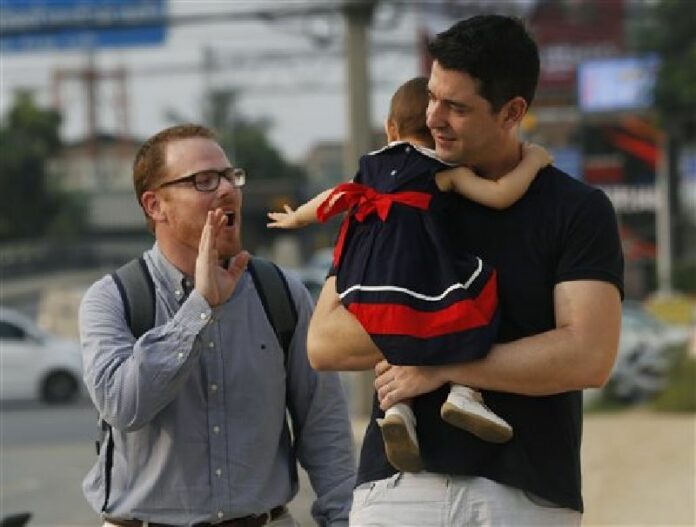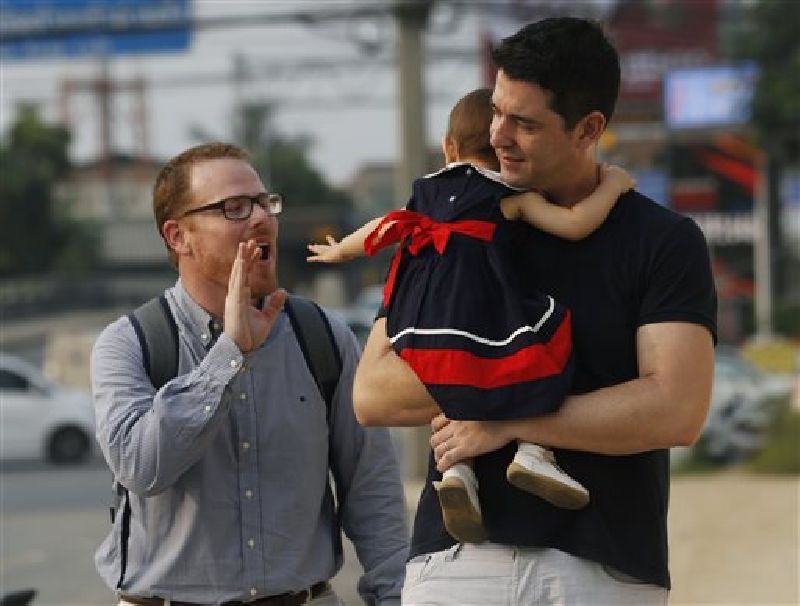 BANGKOK — A same-sex American-Spanish couple won a high-profile custody battle Tuesday against a surrogate mother in Thailand who gave birth to their child but then decided she wanted to keep the baby when she found out they were gay.
Bangkok's Juvenile and Family Court ruled that the legal guardian of the child, named Carmen, is the girl's American biological father, Gordon Lake, said Lake's attorney Rachapol Sirikulchit.
"The court has granted legal custody of Carmen Lake to Gordon Lake, my client, and (said) that my client is her only guardian," Rachapol said.
Lake and his partner, Spaniard Manuel Santos, both 41, have been stuck in Thailand since launching their legal battle after Carmen was born in January 2015.
Santos emerged from the court smiling and with tears in his eyes.
"We won," he told reporters. "We are really happy. … This nightmare is going to end soon."
"After 15 months, Carmen will fly to Spain," where the couple lives, Santos said.
The case was seen as complicated by the fact that Thai law does not recognize same-sex marriages and also by a new law that bans commercial surrogacy, which took effect after Carmen's birth.
When Carmen was born, Thai surrogate Patidta Kusolsang handed over the baby to Lake and Santos, who left the hospital with the infant. But they say Patidta then changed her mind and refused to sign the documents to allow Carmen to get a passport so they could leave Thailand.
Lake, who is from New Jersey, is Carmen's biological father, while the egg came from an anonymous donor, not Patidta.
Lake and Santos were told she had thought they were an "ordinary family and that she worried for Carmen's upbringing," according to a message Lake posted on a crowdfunding site that has raised $36,000 to help cover the costs of the trial and staying in Thailand.
Lake has said he doesn't know why the surrogate says she didn't realize he was gay. He says he was clear about that from the start with their surrogacy agency, New Life, which has branches in several countries.
The Bangkok-based New Life office has closed since commercial surrogacy was outlawed in Thailand in July 2015, following several high-profile scandals. There was a grace period provided for parents whose babies were already on the way.
Carmen has lived with the couple since her birth.
Story: Nattasuda Anusonadisai / Associated Press
To reach us about this article or another matter, please contact us by e-mail at: [email protected].
Follow Khaosod English on
and
Twitter
for news, politics and more from Thailand.