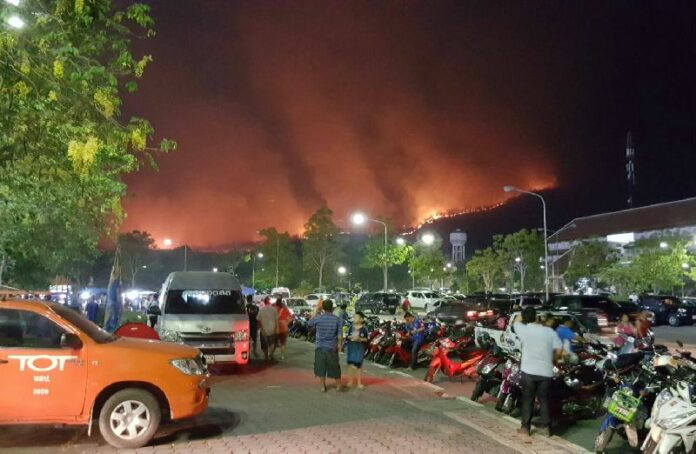 CHIANG MAI — Officials and volunteers spent nearly 12 hours extinguishing a giant forest fire they believe was sparked by a forager Sunday afternoon in a national park overlooking Chiang Mai city.
Although alarming photos taken Sunday evening of the blaze led to panic on social media, officials said Monday that no deaths or injuries were reported, and no evacuations were necessary because the fire never approached residences or historic sites, as feared by many netizens.
Sangthong Champakaem, deputy chief of Chang Puak District, told Khaosod English this morning that the fire, which ravaged over 60 rai (9.6 hectares) in Doi Suthep-Pui National Park, was put out at around 3am early Monday morning.
The cause of the fire is still being investigated, but Sangthong said it was likely caused by one or more people.
Sangthong said that in addition to around 100 firefighters, hundreds more national park officers and volunteers helped control and extinguish the blaze.
Chang Puak District Office is currently open for people who wish to donate drinking water to be distributed to firefighters, national park officers and volunteers.
Chiang Mai Gov. Pavin Chamniprasart, also confirmed this morning that the cause of the fire is likely human-related.
He said it was likely caused by someone foraging for food or other materials, which sometimes involves setting fires.
The fire wasn't as serious as pictures and video clips shared online suggested, Pavin said by telephone this morning.
"It was mostly smoke. By nightfall, people took photos of it from high angles. So the fire looked really strong in the background. But in fact, it wasn't as strong as in the photos," Pavin said.
Despite fear on social media, the governor added that the fire never threatened either residential areas or the historic Doi Suthep Temple, as the blaze was kilometers away from either.
Officials will inspect the scene within Monday, according to Sangthong and Pavin.
Additional reporting Teeranai Charuvastra

Related stories