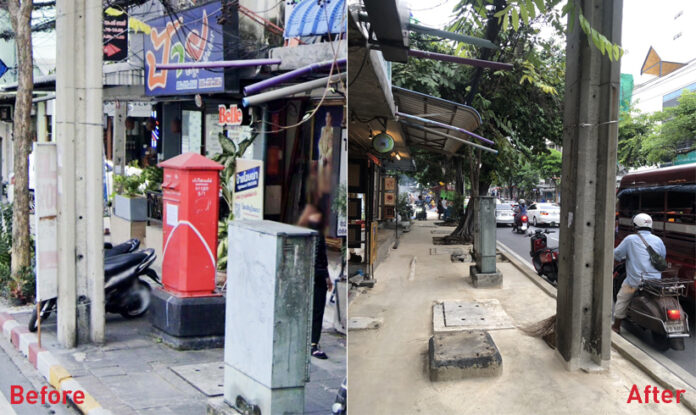 Unlike many other countries, where the term "street furniture" usually refers to something positive, such as an art exhibition or a playground for children, in Bangkok the term means an invasion on the already narrow sidewalk, leading to more dangers for pedestrians.
The Governor of Bangkok, Chadchart Sittipunt, recently announced the result of the investigation and solution implementation of the problems with street furniture in Bangkok in 50 districts.
It was found that there are problems on 329 sidewalks, a total of 27,128 places.
Within these numbers are:
Metropolitan Electricity Authority tools and switch box, 1,636 locations
Electricity pole, 16,655 posts
Mailbox, 375 posts
Metropolitan Waterworks Authority tools and control box, 12 spaces
Fire hydrant, 131 places
National Telecom Public Company Limited tools and control box, 551 spots
NT Communication pole, 7 spots
In addition, there are 140 police stations, 2 traffic sign poles of the local police stations, 28 control and tool boxes of the Department of Traffic and Transportation, 37 bus stops and 1,369 spots under the Department of Traffic and Transportation.
There are also other obstacles placed by the Bangkok Environmental Department, such as 68 trees, 3,339 trees and others such as billboards or bollards, totaling 2,765
Currently, officials in Bangkok have removed more than 23,000 posts with obstacles. The Bangkok Public Works Department said it will closely monitor progress, but will proceed cautiously with the operation as some areas do not fall under Bangkok's jurisdiction.