When Chaiwat "Nine" Sriwilard took up calligraphy to impress a crush in a land far away, he didn't know he would end up falling for the artform and quitting his job to teach others the craft.
Despite a smartphone era that has made writing on paper with pen rare, a small but fervent crowd has picked up modern calligraphy this year, and part of its success is undeniably due to an online community called Typer.
"Writing with your hands gives a different impression from typing something online," said Chaiwat, who founded the group and admits to being a social media addict.
He also believes it can sharpen the mind.
"Not only challenging, calligraphy also helps us concentrate better," Chaiwat said.
Launched in July 2015, Typer shares images of Thai and English calligraphy with its 20,000 fans, as well as providing monthly courses on modern calligraphy, taking typographic jobs and selling stationery such as special pen holders, inks and calligraphy notebooks.
The 24-year-old entrepreneur was introduced to the art in 2015. There was someone he wanted to impress in Japan with fancy letters written in his own hand, so he started teaching himself the craft. In the end, the crush didn't return his affection, but she'd left him a greater gift.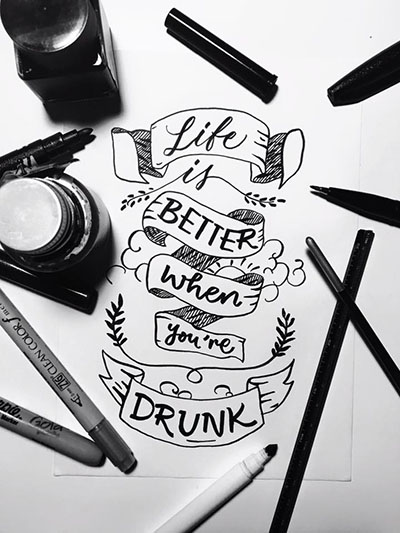 Nearly a year after hosting a successful public workshop in May 2015, he quit what had been his dream job – art director at a prominent advertising company – to start a studio on Soi Sukhumvit 47. It will open soon.
"If it weren't for calligraphy, I would be stressed and suffering with my work," Nine said. "Going out of my comfort zone has entirely changed my life path. If I didn't do this now, I would have regretted it forever."
Typer provides at least five courses a month in which Nine created from his own experiences and textbooks. Instead of a one day class like those offered elsewhere, Typer offers intensive two-day courses. Learners study patterns for writing uppercase and lowercase letters in detail to make sure that they can put what they've learned into practice.
Nine said most of the students are between 25 and 35, and almost all are looking for a new hobby. He estimates he's taught more than 500 people.
Phitchapha "White" Sathiensataporn was one of his student back in July. For her creativity, skill and passion, she soon joined the team as a calligraphy trainer.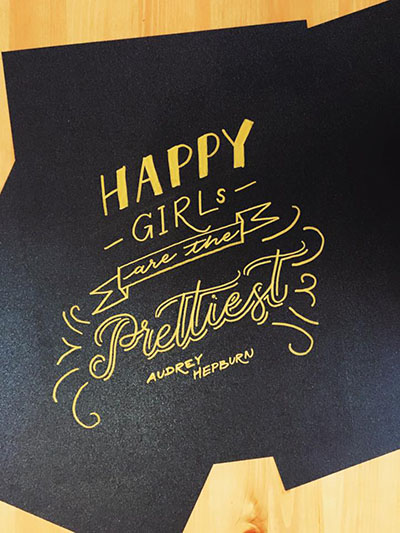 "I took the course just to make connections," White said. "I wanted to know people in calligraphy circles so that I could get comments to improve my works."
While her main job is helping out her family's factory business, White writes and draws as a hobby. In contrast to the slow and painstaking nature of calligraphy, she is also a boxing trainer.
"Both boxing and calligraphy are similar, as they are arts I'd like to pass on to younger generations," said the 24-year-old calligrapher.
Nine said calligraphy has become a trend this year. With the internet, there are no boundaries barring learning, exchanging information and being inspired by foreign artists. Nine got his inspiration from talented British calligrapher Seb Lester. And anyone can show off their work via social media, which is helping to expand the Thai calligraphy community.
"It's just the beginning here in Thailand," said Nine, admitting he's quite optimistic that the hype won't fade through time. "Calligraphy is considered art in many countries, not just a fad or trend. Thai calligraphy will grow further from now on."
Calligraphy 2.0
Is calligraphy even possible in Thai, which lacks a cursive handwriting form?
Typer says it's harder than drawing English letters, and Thai calligraphers must overcome their biases about how the language should appear.
"Thais are familiar with Thai letters, and when they're written differently, people complain that they're hard to read," said Tanisorn "Champ" Lertwimon, a 23-year-old movie poster typographer. "Also, Thai letters consist of various characters such as consonants, vowels and tone markers, and there's not much reference that we can use."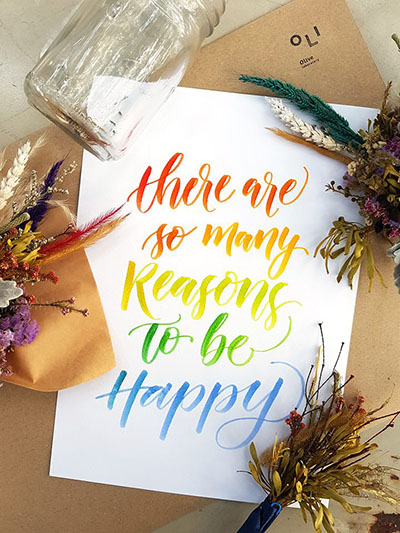 Typer teaches modern calligraphy. It's considered more flexible and approachable, which has made it more attractive to new generation for writing cards, graphic design work or other creative design.
Learning modern calligraphy is largely based on following existing letter-form patterns created by artists. Nine said from there people can create their own styles.
"Actually, there's no originality now," Nine said. "We have to learn from others and combine it with our own styles, unless we invent the new letters ourselves."
As someone who's tried calligraphy once following a YouTube video, I've suspected that expensive pens play a big role. Not so much, Nine said.
"A simple pen is enough for calligraphy, you just have to practice to be good at it," he said.
He said making good-looking letters is about perfecting lightweight and heavyweight strokes in ascending and descending lines.
"You also have to imagine how the letters are going to be, how they're tied off and draw that onto paper," he said.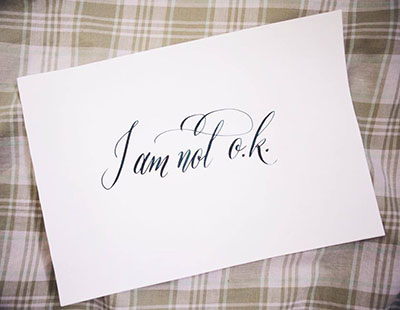 But What to Say?
Once aspiring calligraphers can make pretty letters, what should they draw?
Nine said many get to work reproducing quotes from famous people. But Nine said it's important to write what's true to one's feelings.
"You have to craft what you write somehow. It should be catchy but not cliche," he said. "Inspiration can come from daily life and how you feel toward it. It can be simple, intense or stressed, just express it with letters."
More than that, he suggests good calligraphers get over themselves.
"Many people always compare themselves to others, and this is not healthy. You just have to enjoy what you're doing and improve yourself. That's all it takes," he said.
Typer teaches in Thai and English. Courses run from 2,800 to 6,400 baht. The Modern Calligraphy course is 4,000 baht. Typer Studio is located at 21/5 Soi Sukhumvit 47 in the Khlong Toei district. For more information visit Typer on Facebook.