BANGKOK — Go Inside the gates of the Grand Palace to find a little-known textiles museum exhibiting Queen Sirikit's elegant garments and colorful costumes of traditional dance, or Khon.
While those flocking to the popular tourist destination may only focus on the Emerald Buddha, architecture and looming demons, more demons – and monkeys and princes – can be found inside a two-story, Victorian-style building near the main entrance: the Queen Sirikit Museum of Textiles.
On the second floor find two exhibitions: Khon costumes and Queen Sirikit's creations made by by French designer Pierre Balmain.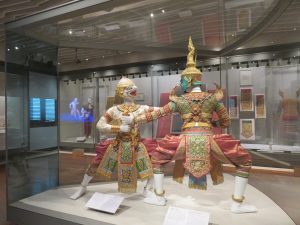 Entering the first two rooms, visitors will be introduced to Khon through textiles. Although similar to royal attire, Khon costumes and jewelry use different styles and materials.
The exhibition describes the origins of Khon from the Ayutthaya period to its revival by Queen Sirikit through royal performances in 2007 to bring it back to the public. Three film clips show what Khon was like in the past and some of the processes of costume-weaving and embroidering.
The two last rooms present the museum's highlight: Costumes designed by renowned Parisienne couturier Balmain worn by the Queen during a six-month tour of the United States and Europe in 1960 with King Bhumibol, when she was toasted as the height of fashion.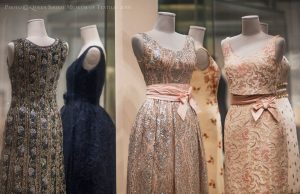 The collection includes short and long dresses, and hats and shoes of various styles. What makes them unique is the fine combination of Thai patterns and local textile fused with Western clothing to represent a Thai identity on the international stage. The partnership between the Queen and Balmain paid off, as the queen named the best-dressed woman in 1965 by what was then the influential International Best-Dressed List's Hall of Fame.
While looking at the clothing, see photographs of Her Majesty wearing the exhibited pieces along with high-quality footage of Their Majesties during their visits abroad from 1960 to 1973.
The museum is well-curated with an impressive display of clothing, especially the use of invisible mannequin techniques to make the dresses stand out in their glittering display windows.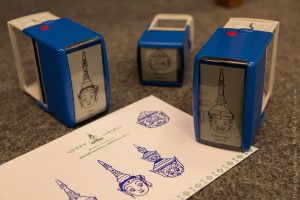 Visitors young or old can also have fun dressing up as their favorite Khon character in a tunic for photos, coloring Khon costumes or stamping characters and handwoven textiles onto souvenir cards.
The exhibitions launched Aug. 12 to celebrate the Queen's 84th birthday and runs through June 2018.
Admission is 150 baht for adults, 80 baht for seniors over 65, and 50 baht for students and children. Children under 12 and visitors to the Grand Palace who purchase the palace tickets get in free. Visitors in wheelchairs are welcome.
The museum is open daily from 9am to 4:30pm. Last admission at 3:30pm.