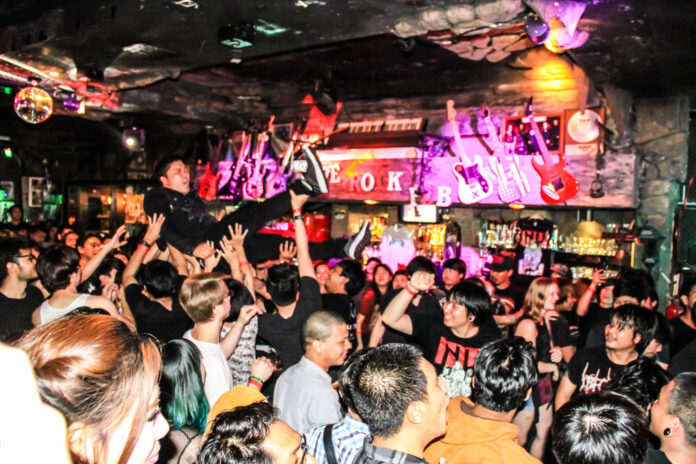 BANGKOK — Step off the Skytrain and into a dungeon. Eyes adjust to the darkness to find about 200 people slam screaming into each other.
There's a singer and he's throwing himself bodily onto the crowd, to surf above it and be passed this way and that around the room. Look in the corner: Beneath images of Michael Jackson, Elvis Presley and Freddie Mercury, an otherwise normal looking man in a hoodie is alone, banging his head like a Trash Dove.
It's Friday night and while the other urban tribes are fist-pumping to EDM or stanky-legging to hip-hop, we're in a place where those who like it rock are free to sweat and thrash and raise the horns.
And they've been doing it there a long time.
Thirty years ago, on March 1, 1987, Bangkok's Rock Pub music bar opened in the Ratchathewi area. Since then, it has been at the vanguard of the city's multi-generational rock scene. To celebrate tonight, it's bringing out rock legends from the '80s and '90s for an epic party.
Rock Pub is home to all the flavors of metal: grunge, groove metal, thrash metal, nu metal, pop punk, funk rock, Brit rock and even some melodic death metal.
Its current owner doesn't spare words to describe its appeal:
"If you don't like rock, you don't want to come here."
Nonthadet 'Tao' Buranasitiporn, 33, at The Rock Pub
Nonthadet "Tao" Buranasitiporn, 33, said he was only 3 when his father opened the capital city's first so-called "rock pub." At the time, he said, the only live music venues were jazz bars such as Brown Sugar, Saxophone and Bamboo Bar (which, coincidentally, have also survived to this day).
Why rock? Why Rock Pub? Have to blame that one on Tao's dad, Wannop "Toom" Buranasitiporn, who managed '80s metal legend Kaleidoscope.
Tao's first memory of Rock Pub was at 5, watching from the mezzanine as Kaleidoscope drummer Ekkamun Popanthong hammered a drum set and stylish people in all black queued outside for a chance to see house bands Kaleidoscope, The Olarn Project and V.I.P., known at the time for Lam Morrison, aka "Thailand's Guitar King."
V.I.P. performs on television in 1982
"Not a single day the place was quiet. It was the golden era of rock … like it's the golden era of EDM these days," Tao recalled of the first decade the place opened.
The Rock Pub's first location was at the end of Saphan Hua Chang, where now sits a small, graffiti-filled park. It was there 12 years until the 1997 financial crisis deepened. The building was knocked down, and the bar moved a few hundred meters away, where it remains today behind its goth castle fantasy exterior.
The Olarn Project in 1987. Photo: The Olarn Project / Facebook
Ekkamun Popanthong back in the day. The Rock Pub / Courtesy
The Rock Pub back in 1987. Photo: The Rock Pub / Courtesy

Tao had just come back from studying in the United States. His father was getting on in years, and he had to step up to run the family business. To him, that was the time of Peak Rock, and the pub has never been quite the same, even at the turn of the millennium when teens tuned into to nu-metal rockers such as Linkin Park, Korn and Limp Bizkit.
"The needle went down and then went up. But it didn't go up to the peak. The Rock Pub can never reach that peak again," he said.

But what still keeps Rock Pub open today, in the era of YouTube and Soundcloud, is that Tao still has faith in live rock music and its audience. He did some research, talked to friends and went out to other bars to figure out how to rebuild the rock scene back to what it was in his father's time.
So he plays to the bar's strengths by recruiting only "true rockers" to perform there. They don't have to be famous. They don't have to play mainstream rock songs. But they have to rock out from the heart.
"If they really play from their spirits and play it well, customers will feel it, recognize the bands and come back," Tao said.
The Rock Pub currently has seven house bands with seven styles. One of them is Tao's band Outro, in which he plays bass and does some vocals.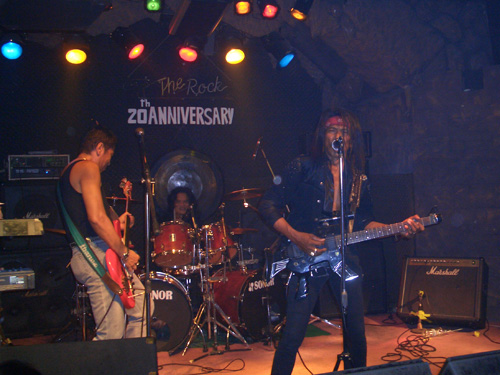 Apart from house bands playing daily, Tao also invites international rock acts from various subgenres once a month, from British '80s grindcore pioneers Napalm Death, to German thrash metal Sodom or Pittsburgh's political punk act Anti-Flag.
"Most of the other bars have music as a background. We go there to hang out with friends, to talk to them, to clink glasses with them," said Tao. "But at The Rock Pub, it's different."
Among the Thai and farang customers coming in, Tao is surprised to find an office woman as a regular daily customer, sometimes alone, sometimes with a couple of girlfriends – always requesting heavy songs by Slipknot and Korn.
These little things give Tao hope for the hardcore venue's future.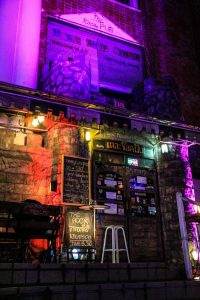 "I'll close The Rock Pub when there is no rock left in the world, or no one in Thailand listens to it," he said.
The Rock Pub celebrated its 30th birthday Wednesday, with a reunion of its former house bands and members including V.I.P.'s Lam Morrison, drummer Ekkamun Popanthong, The Olarn Project and Kitti Kanchanasathit aka "Guitar Gun." The Rock Pub can easily be reached from BTS Ratchathewi's exit No. 2.