BANGKOK — At this downtown cocktail bar, the women are running the show.
Enter a hotel a few hundred meters from downtown shopping mall Terminal 21 to find Highball Bangkok and a fresh concept for the city's busy bar scene: only women behind the bar.
In a country where most bartenders are men, Highball Bangkok wants to change that. Not with miniskirt-wearing eye candy with a passing knowledge of the craft, but rather skilled drinksmiths pouring 100-proof talent.
"Bars in Thailand never had this clear of [all-woman bartenders] concept. When talking about bartenders, most of us automatically think about men," owner Mlinssara Bhumichitr said. "Many overlook that women actually can do the job too, and we want to be the ones to fiercely make the point."
The laid-back bar shares the same concept as Highball Singapore, which was opened by Kino Soh, who is also head bartender there.
The team pouring and serving behind the bar is led by award-winning bartenders Thananya "Jib" Samoema and Saimai Nantarat. Both are known to be top female bartenders in the country. Jib was one of 12 finalists for the Diageo World Class Thailand Competition in 2016, while Saimai was crowned champion at February's Bangkok Gin Jubilee.
Saimai was a bar-back when she was a college student and later moved up to full bartender status. She worked at Bunker Bangkok in the Sathon area before moving in June to Highball Bangkok.
"The concept made me apply for the job," Saimai said. "Women can do so many things as well as men and working here gives me the opportunity to train other women to be able to bartend like I do, or even better."
While Bangkok has many destinations for craft beer and cocktails, most people would associate Highballs with the Japanese variety. So, apart from challenging the bartending being boys' club, Mlinssara said another goal is to bring highball culture to a wider audience.
Easy-to-drink options, a friendly environment and affordable prices are no doubt the place's strong points.
The bar claims its golden, counter-top Jim Beam Highball draft tap is the city's first. What does it do? It pours out high-pressured soda with a stronger and more durable fizz.
More than 50 choices of drinks are available, including a sparkling Yuzu Highball (220 baht) and the bartenders' specials. Saimai recommended her self-invented Intanin and the #Highballsour. Jib has hers too: Baby Bomb Highball and Rose Lady.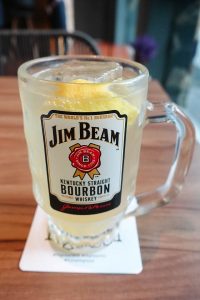 "You drink a Baby Bomb Highball and you're reminded of eating popcorn in the cinema," Jib said, adding that Baby Bomb is her bartending nickname. "I invented the Baby Bomb Highball from my own history, back when I snuck Sangsom rum into a cinema and drank it with popcorn watching the movie."
Another popular drink is Lychee-Rose Gin Fizz (Tanqueray London Dry, lemon juice, lychee liqueur, egg white, cream, soda and rose syrup for 300 baht). It takes a full eight minutes of shaking to create. A customer even asked to try shaking her own.
Something to munch while drinking? Sure. The chef serves easy appetizers and fusion dishes such as home-fried cheese sticks (120 baht), baked New Zealand mussel with cheese (220 baht), spaghetti carbonara (220 baht) and bacon-wrapped fried chicken with lemongrass (200 baht). If vegetarians aren't full after a mushroom soup, they can order more from the non-meat menu items.
Highball will see its grand opening in September. Get there by foot from BTS Asoke. The venue is located on the ground floor of Sacha's Hotel Uno on Soi Sukhumvit 19.