Photos: Tetsuya Ishikawa
From the moment Karl Hyde started strutting around the stage and Rick Smith took his place behind his custom setup to open with "I Exhale" from their Grammy-nominated 2016 album for a vigorous, hour-long set, it was clear they didn't come all this way just to go through the motions after 37 years making music together.
On Saturday, Underworld's Bangkok fans witnessed their debut performance – Hyde apologized from stage for not coming soon – at the Super Summer Sound Festival at Asiatique the Riverfront.
"The kick drum is my dealer," Hyde said before the show. "The minute Rick drops the kick drum, I'm gone, the energy from the crowd is everything. I cant fake it."
The renowned British electronic music group Underworld was formed in 1986 with Hyde and Smith, who'd already been making music together six years. Starting out as originally as a electropop band the duo ditched that sound in the '90s for techno. Their 1993 single "Rez" became a club anthem, the track's success was followed by their third critically acclaimed album "Dubnobasswithmyheadman."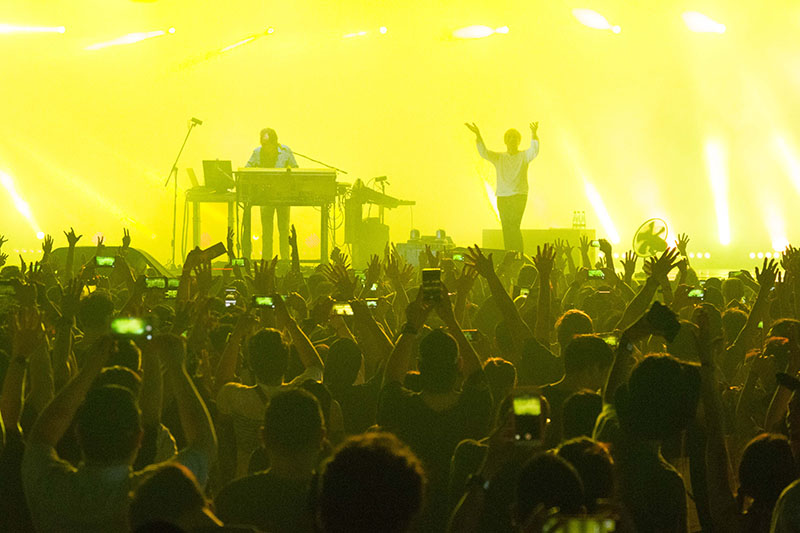 Smith didn't move from his position operating his custom array of computers, synthesizers and effects machines. He provided a center of gravity for Hyde, who never stopped moving, posing and growling into the microphone. Any worry of it being a has-been act were quickly dispelled as the pair delivered a vigorous and felt performance that drove home the point that age is just a number.
After opening with "I exhale," a track from their latest album "Barbara, Barbara We Face a Shining Future," they took the crowd on journey weaving between newer and older material before bringing it down by closing the set with "Born Slippy."
That of course would be the iconic dance track that best represents '90s nostalgia and made the group a household name. Originally released as a B-side, the track skyrocketed to the top of the pop charts after it became a generational anthem in in Danny Boyle's 1996 film "Trainspotting." The track's vocals, melodic breakdown and pounding drums also served to make it one of the biggest club anthems of the era.
The crowd may have been less energetic than Underworld gets at their other shows, but there was a good mix of old and new fans in attendance at the festival organized by architect Duangrit Bunnag, which also included performances by DCNXTR, X0809, Maika Loubte, Telex Telexs, Nolens Volens and Kidnappers.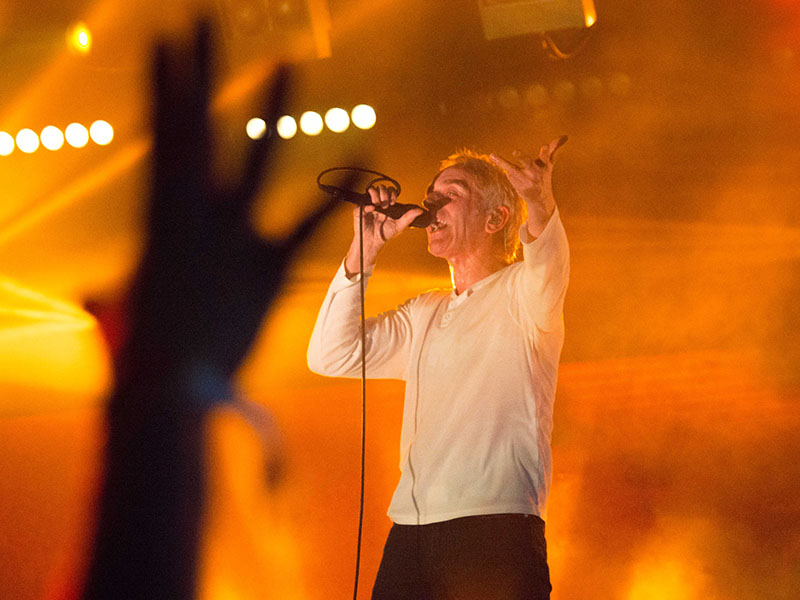 For me the event was a high school reunion, seeing all the friends from back in the day. After all it was Underworld's music we raved to when we were baggy-pants wearing, pimple-faced ravers in the early '90s.
The group has remained prominent in the electronic music scene and have released six critically acclaimed albums, recorded their own solo projects and and even wrote music for the 2012 Olympics in London.
Though they may not command the same draw of today's younger listeners, they've remained true to their craft and, unlike many looking to make a quick buck, never took the EDM route.
"We have no interest with that," Hyde said in a pre-gig interview, adding "if we try and be current, current is already over. Writing music is also about challenging ourselves."
He said they've always followed the music where it led them.
"We were fortunate to start in the '90s with [our former label] Junior Boy's Own. They always encouraged us to do whatever we wanted to. If we turned into a rock band, they would've still released our music."