MAHA SARAKHAM — The latest Predator movie may not have impressed critics, but the franchise's Thai cosplayers are on a mission to promote the film.
Anucha Kenhong, 32, has been so busy suiting up as the intergalactic trophy hunter to promote "The Predator" at local theaters that he hasn't actually had time to see it himself.
"I went to the SF Maha Sarakham theater to go promote it. I do it out of my own love for the movie," said Anucha, one of the several Predator cosplayers in Isaan.
Like his counterpart in Mukdahan we interviewed in June, Anucha's side hustle is dressing up as a predator for hire for events. Anucha admits that while he makes his own costumes, he depends on Mukdahan predator Samai Khammongkul to supply his elaborate headgear.
Read: Exclusive Interview With the Predator of Mukdahan (Video)
The film's release scored him a gig Saturday at a local mall where he will promote the film's opening weekend.
Despite being panned by critics and dogged by a controversial casting decision, superfan Anucha says he's fine with whatever director Shane Black produced.
"I started liking Predator since 'Khon Mai Chai Khon' ['Human But Not Human']," he said, referring to the domestic title for the 1987 original. "In that one, Arnold was in the jungle. And since then I've watched them all. No matter what form they give me Predator in, I will like it. Their ways of killing are so cool, and there's lots of plot twists."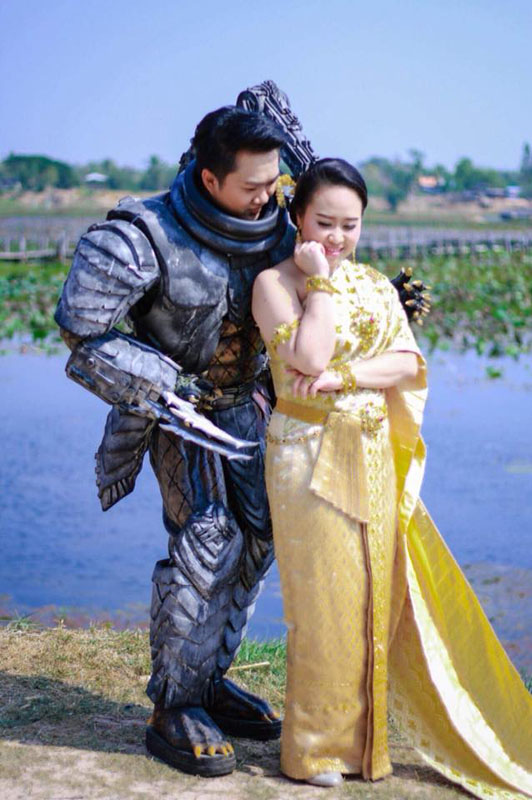 Anucha admits he hasn't even heard of the scandal surrounding Black's hiring of an actor friend who was a registered sex offender without notifying the cast. Female protagonist Olivia Munn, who plays female protagonist scientist Casey Bracket, Munn said she was "frozen out" after complaining about the decision.
Anucha only cares about the on-screen spectacle.
"I don't really dig deep into the [behind-the-scenes] stuff. I just look at the action scenes on the surface," he said.
But even a vicious man-hunter who stalks the streets of Maha Sarakham in full battle gear has to answer to someone – Anucha got married in February, in full Predator garb, of course.
"I have to wait and watch it with my wife next week. She said I can't watch it first. I wanted to go watch since yesterday, but I gave her my promise," he said, laughing.
Many characters joined Anucha's February wedding.
'Let's go see the movie!' Anucha captioned a clip of him Friday on a custom Predator bike.
'The Predator' is in theaters now. It's rated 18+ for violence, language and sexual references.
Related stories:
Olivia Munn Finds Little Support From 'Predator' Peers
'The Predator' Outstays Its Welcome on Earth