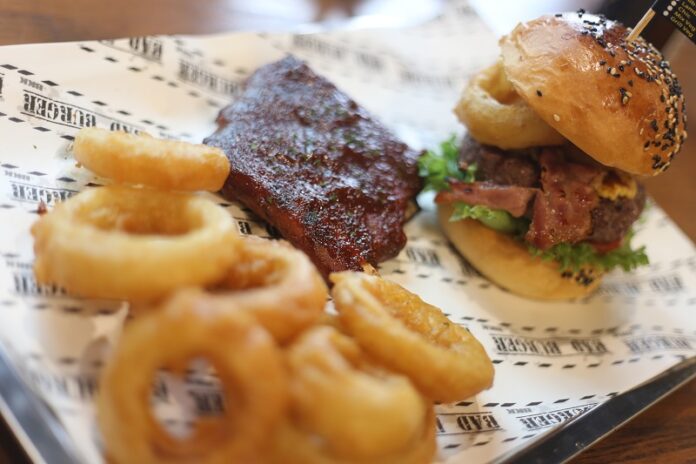 By Emily Churchill
Her name floats through the social media feed. Maybe you follow her; maybe you've gotten into a spat with her on Bangkok Foodies. With a notable social media presence marked by biting humor and brutal frankness, Poupee Paethanom has stood out in the capital's food scene, inviting both devotion and derision. Her policy? Honesty always, even if some don't like it.
Bad Burger, inspired by villains of lore, is Poupee's most recent endeavor. Walk into the restaurant and take a look around – you'll get a feel for what this chef is about.
The wall hosts cartoon mug shots of famous Hollywood villains –  Batman's Joker, Alice in Wonderland's Queen of Hearts and Sleeping Beauty's Maleficent, to name a few – with their famous catchphrases.
The Wi-Fi sign betrays a coy hostility. The password is an answer to a question: "What came first, chicken or egg?"
Spoiler warning: The password, of course, is "I don't know." The Wi-Fi puzzle is a device Poupee uses to make customers talk to her and the staff – a form of icebreaking trickery.
Poupee is a fan of the villains of pop culture, and she identifies with their origin stories.
"Most of them were not born villains, but they were good people that were bullied, so they decided to stand up for themselves," she explains.
Moving onto this busy street has given Poupee an opportunity to play the role of one of her favorite antagonists. She says that because she is a newcomer to the area, many restaurants have had issues with her presence.
"Opening restaurants so close to others, it looks like I'm the bad guy," she says. "But I have the story, I have my reasons, and I want people to know them."
The burgers are served on an old-school metal lunch platter on wax paper with "Bad Burger" printed across it in all caps like caution tape. Sides are served in stylized cast-iron pans, lending a rustic charm to the otherwise wood-and-industrial sense of the space.
Poupee has carefully crafted these burgers to different levels of "badness" based on what they come with. Choices range from basic American burgers to special burgers with options such as grilled onions, Gruyere and bearnaise sauce. The rudimentary burger sells for 249 baht and is aptly called the "Basic Bit**." There is a vegan and vegetarian burger on the menu for 239 baht each. Half and full racks of ribs are served for 359 baht and 579 baht, respectively.
"When I do this food, I want people to feel like it's worth it," Poupee says. "I want to give them something that is a good value, something that I'm not trying to teach or get money out of… I didn't study any marketing or anything, but what I know is that when people are happy with it, they will keep coming back."
With a slight raise of her eyebrows, Poupee adds what could be a trademark for her personal brand:
"It's just honest business."
Bad Burger is open noon to 11pm daily. Find it on the second floor on the south side of Sukhumvit Road between sois 18 and 20, a short walk from exit No. 1 of BTS Asok.