BANGKOK — Unassuming and less than a five-minute walk from BTS On Nut, is a small draft beer bar called DogStep.
In operation for more than a year now, it's one of those places that stands as a reminder of the rise of Thai craft beer in Bangkok – and beyond.
The word "Thai craft beer" is a bit of a misnomer, as the majority – and almost all legal ones – are invariably brewed in places such as Cambodia, Vietnam, Taiwan, South Korea, Japan or even Australia.
They're all Thai owned breweries. However, their overseas production originates as a result of Thai law, which forbids breweries that produce less than 100,000 annual liters from legally operating in the kingdom.
Sitting at DogStep on Saturday evening was Siriwat Karnchaisri, 42, owner and operator of Wizard craft beer. His booze became legit after he spent three years perfecting his brewing technique and in June began importing it to Thailand from Phnom Penh. At 1,000 liter production capacity per month, Siriwat had no choice but to brew his stuff outside the kingdom and imported it.
Sirawit nodded when I noted that his beer may not accessible to all income brackets.
"It's about identity and enjoyment," he said, of the rise of craft beer over the past few years in Bangkok.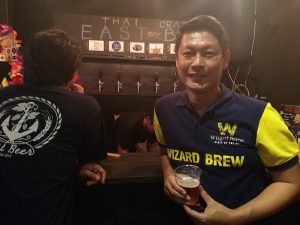 At DogStep, a 355 milliliter bottle of "Thai" craft beer such as Wizard IPA and two dozen other brands sell at 200 baht a bottle. This definitely makes them middle-middle class brews – if not of upper-middle class – compared to the 70 to 120 baht-per-bottle fetched by local mass-brewed lagers served at the average drinking hole.
I purchased a glass of Wizard IPA after I had something called Seven Days, an imported Thai Witbeir – or Wheat Ales – brand brewed in Cambodia. To the untrained nose, Wizard IPA was full of wonderful tropical fruits – particularly mango – though I enjoyed its taste less, as it was slightly too bitter.
A Canadian woman from Ontario who only gave her name as Jessica, was sharing the other side of the same long table with me. She told me ordinary mass-brewed beer is just "boring."
So you need a taste as well as deeper pockets to enjoy craft beer in Bangkok. Siriwat, who hails from Chonburi province east of Bangkok and is well-off through his family's hotel business, said he is supplying his booze to 40 bars and restaurants in Bangkok, Bang Saen and Pattaya. He said the market is growing although it's still too costly to transport a small batch of his beer to bars in Phuket due to the transportation costs and the economy.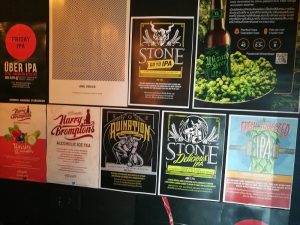 Wizard's brew master is an Englishman. Hops, barley and malts are imported into Phnom Penh from the United States and Australia. His beer arrives by boat at Laem Chabang Port from Cambodia.
Besides advertising restrictions, which leave Siriwat having to concentrate mainly on educating drinkers on the finer points of Indian Pale Ale, Pilsner, Citrus Wit drinking, Siriwat laments that the new alcohol tax is hitting imported beer harder. He reckons the price – soon to be raised – will affect local mass brewers by about 5 or so baht per small bottle, as opposed to the 10 to 20 baht per small bottle that will impact imported "Thai" craft beer.
"[Craft beer] is alternative beer, with its own character and unique styles unlike others. Drinkers imbibe it for its characters and not to excess," said Siriwat of his target drinkers, who are mostly urban and between the ages of 25 to 35 years.
As more drinkers filled up DogStep, which seats just two dozen people and has no air-conditioned room, I bid Siriwat farewell and retired, as the party had just gotten started at 8pm. DogStep offers two dozen types of craft beers and specially selected beer on the tap every fortnight. The night I was present was Thai Craft East Beer night and Wizard's was among the six breweries chosen.
Not a bad way to wind down a night and enjoy a glass of Silhouette, Brew Ocean, Lamzing or Yaksa.
DogStep opens from 5pm to 1am everyday. It is located in Sukhumvit 50.