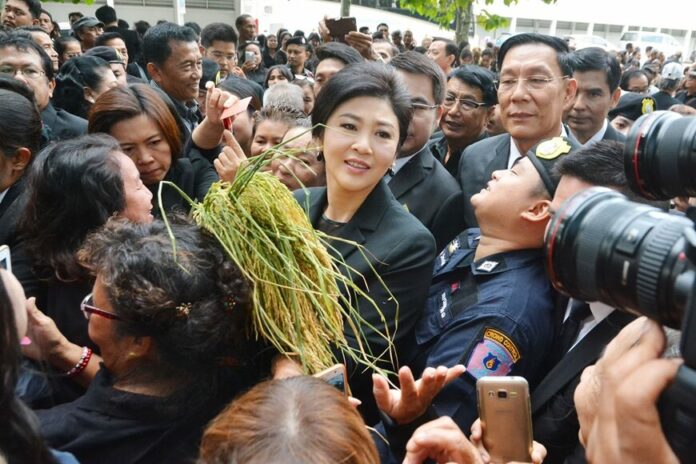 BANGKOK — No charges will be filed against three policemen accused of helping former prime minister Yingluck Shinawatra flee Thailand, a top investigator said Monday.
The three officers had faced charges of duty negligence after confessing to having aided the former leader in her late August flight. But deputy police commissioner Srivara Ransibrahmanakul said there was no evidence to back up what they confessed to doing.
The car Yingluck was believed to have traveled across the border to Cambodia was contaminated with so many DNA samples that it was impossible for forensic police to pinpoint her identity, Gen. Srivara said.
"For this issue, it's now over," said Srivara, who heads the investigation into Yingluck's flight. "We cannot press charges or expand the investigation any further."
The three officers are Col. Chairit Anurit, Lt. Col. Samit Chai-inkam and Senior Sgt. Maj. Pornpipat Makboonngam. They were removed from their posts after they admitted to helping Yingluck cross the border in their Camry.
Democrat Party politician Nipit Intarasombat said police should not simply disregard the three officers' confession.
"Now that they confirmed the fact that they helped [her] leave, it should have been enough. The DNA isn't a deciding factor," said Nipit, who previously urged the junta to spare no measure in bringing Yingluck and anyone who helped her to justice. "They should look for other evidence, too. For example, for any photos or CCTV footage."
He added, "The three officers already confessed. Where is the evidence that they did not do it?"
While they have been absolved of any crime, the three officers still face prosecution on customs offenses for owning an unregistered car, Srivara said.
Yingluck, who was active on social media prior to her escape, has been silent since she vanished two days before the verdict was to be read in her malfeasance trial. She was declared a fugitive of justice and a warrant was issued for her arrest.
Government sources have told the media in recent weeks the 50-year-old former premier was in the United Kingdom seeking asylum. The junta has so far declined to confirm the news.