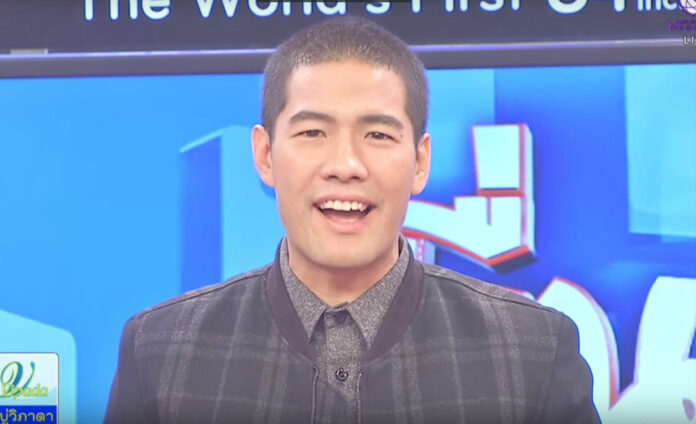 BANGKOK — While many congratulated a well-known television host's decision to go public with his gay marriage this week, notions of LGBT tolerance were crushed by a wash of homophobic comments unleashed online.
Since Vuthithorn "Woody" Milintachinda disclosed on his Monday talk show that he secretly married his longtime boyfriend two years ago, the news quickly became a hot topic online, where any best wishes from netizens were drowned out by abundant use of offensive language and stereotypes attacking Woody for being a gay man.
"When he was ordained, I thought he was a real man. Actually he's a member of the 'Yellow Club' who likes shit bombs," Facebook user Sunsun Banyong wrote Tuesday in reply to a Khaosod story.
"Yellow Club" is a derogatory term for gay men, referring to the color of feces.
The nastiness was unrestrained, as it tends to be online.
"Sperm will fertilize with shit now, congratulations," Suriya Chakrawan wrote.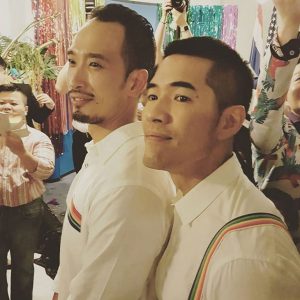 Others broadened their venom to smear his family as well.
"I thought he was straight. It's a shame. His parent should be proud? Or did the ambassador raise his son to be a faggot like his brother?" Yossakorn Intarasin commented on a Thairath post.
Woody, 39, is the son of Piemsak Milintachinda, a former ambassador.
"This proves that even a person with high social status can't be accepted," said LGBT activist and former reporter Janewit Chueasawatee. "Then what about no-name LGBT people? How hard do they have to try to be accepted?"
However, Janewit said, events such as the reaction Woody received provide a door of opportunity for Thai society to finally have a serious discussion.
Though LGBT characters are mainstays of pop culture, there's a broader attitude of "don't ask, don't tell" which sees individuals shamed and punished for drawing attention to their sexuality.
On his Monday episode of his Channel 9 show Tuen Ma Kui, Woody went public with the news he got married to his unidentified partner more than two years ago on Valentine's Day in Phuket.
"It was a private wedding with only our friends," Woody said. "We've been together for nine years."
Seeming to anticipate the negative reaction, Woody said he knew some in Thailand would "not understand."
But he told his audience he got all the support he needed in a message from his mother, Tabtip Milintachinda.
"Love is beautiful," it said. "Don't let those who don't know its beauty upset you."
Woody's marriage was first revealed last week in Time Out Bangkok.
The hostile reaction was similar to when two popular singers, Pongsak "Aof" Rattanaphong and Chalatit "Ben" Tantiwut, came out several years back, with some of their fans declaring they would never listen to their music.
ขอให้ทุกคนได้เห็นว่ารักของคนเรานั้นไร้พรมแดนจริงๆ เรารักทุกคน Let's create a world with the freedom to love. pic.twitter.com/OUT4rZbwQc

— WOODY (@Woodytalk) June 28, 2016
Above: Woody Milintachinda and his unnamed husband in a photo the television host posted Tuesday afternoon with the caption, 'Let's create a world with the freedom to love.' Photo: Woody Milintachinda / Twitter