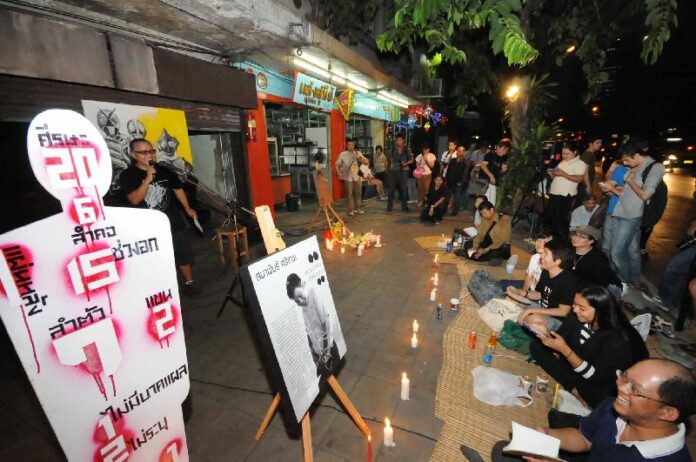 (15 May) Mother of the 17 year old boy killed by sniper fire during clashes between the army and Redshirts in May 2010 said she is still fighting for justice on her son′s behalf.
Samapan Sritep, nicknamed ?Cher?, was shot and killed on pavement near Soi Rangnam in central Bangkok. Witnesses and various evidences say the sniper fire which struck him in the head came from the military position.
On the 3rd anniversary of his death, his parents led a ceremony at the spot where he was killed to mourn his death. 100 people attended the event, which included lighting candles, poem reading, music performance, and a mime. Some people laid down flowers, some stood quietly in mourning.
Ms. Sumapon Sritep, Cher′s mother, said she could not take the news of her son′s death in first 2 years, and only managed to tell herself to live with the fact that he would not come home forever as she entered the 3rd year.
She said she had held events mourning his death in previous anniversaries but would not do so again next year, adding that she would prefer organize fundraising event for political activists so they can push for change in society.
Concerning Cher′s death, Ms. Sumapon said the Division of Special Investigation (DSI) told her they lack evidence in the case so they cannot pursue court hearing. However, she said she′s determined to fight and ask for justice on her son′s behalf.
I will not let this matter fall into silence, Ms. Sumapon told our correspondent.