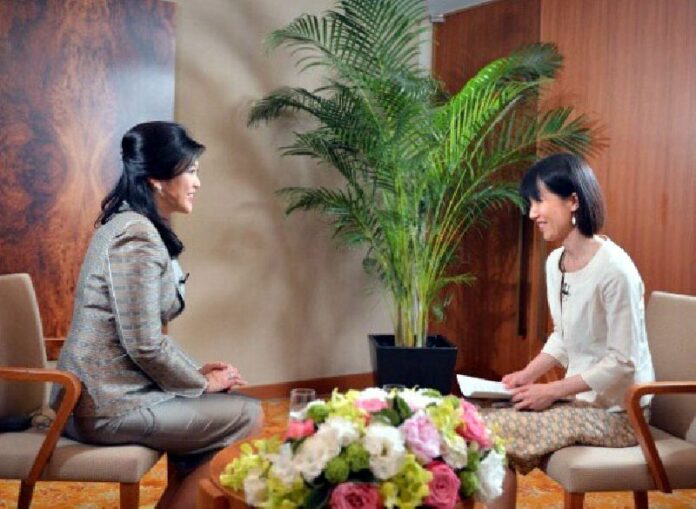 (23 May) PM Yingluck Shinawatra said in an interview with Japanese TV channel NHK that Thailand is moving forward in the democratic process and will soon return to peace and stability.
The Prime Minister is currently visiting Japan to attend the 19th annual The Future of Asia conference, which takes place from 22-25 May. The content of the interview was posted by Mr.Teerat Rattanasewee, the newly appointed Spokesman of the Prime Minister.
In the interview, Ms. Yingluck emphasised that in the past two years the Thai government has always tried to create an open and democratic atmosphere, hearing out the comments of the public.
When asked about her brother, former PM Thaksin Shinawatra who was deposed in the 2006 military coup, Ms. Yingluck said that she plans to run the government in her own way, but being Thaksin's sister, she will not throw away the philosophy of the administration that so many Thai people adored.
As for her being a female prime minister, Ms. Yingluck said the emphasis should not be put on her gender, but the trust that the public gives her to run the country in the past 2 years. Government has put an effort in creating a favourable atmosphere for investment, to enhance confidence, and Thailand′s economy, Ms. Yingluck said.
The Government of Thailand would like to see more cooperation between the public and private sectors to promote tourism and the relationship of the 2 countries… With the emergence of the ASEAN Community in 2015, Thailand is the gateway to ASEAN and is now in talks with industry leaders to reduce production costs. The state is restructuring the logistics system. This will help reduce costs Ms. Yingluck is quoted as saying.
Concerning Thailand's role in the development of Myanmar, she stated that currently Myanmar has begun a process of reform. Thailand would be involved in the push for Myanmar to become a democracy. She noted that Thailand also has cooperation with Myanmar′s Dawei deep sea port project, and Thai government would like to invite Japan to invest in the Eastern Seaboard of Thailand.
When asked about the ongoing dispute in the South China Sea, mostly between China and Japan, the Prime Minister said that every country requires patience and cooperation of economic development to build trust and reduce conflict.