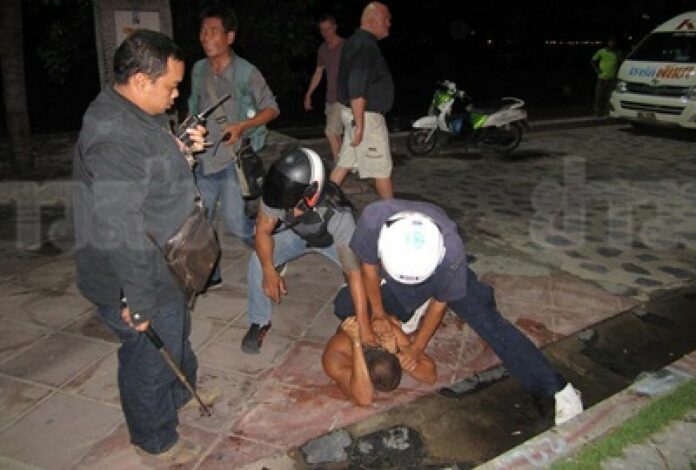 (13 June)
Drunken individual has been detained by police in Pattaya after he was seen throwing a brick at
tourists.
Police received report about the individual and arrived at the beachside road to
find the man, believed to be a Thai national and aged 30-35, topless and in the state of intoxicated
madness.
The police had to struggle greatly to wrestle the suspect on the ground, but
eventually overwhelmed him and brought him to the police station.
Mr. Pratchaya Uppara, 41, a
local volunteer, said when he was patrolling the area he spotted the man walking out of nowhere with
large brick in his hand. Mr. Pratchaya said the man looked very angry, then he threw the stone at
nearby tourists, but missed twice, so the volunteer called the police.
Police say the suspect
was still drunk when the police interrogated him, claiming that he has parents overseas and that he
had been in Pattaya for 3 days for travel when he lost his luggage. The man told police he filed the
report but no action was taken so he came very stressed.
The police detained the suspect at
the police station to wait for him to sober up.