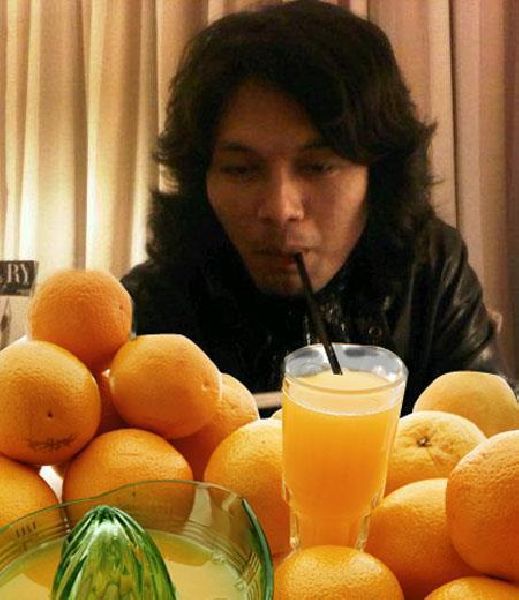 (24 June)
The musician known for his rebellious attitude and drug abuses met with chief of police to declare
that he is no longer addicted to drugs.
Sek Loso, real name Seksan Sukpimai, was at the
center of massive scandal in late 2010 when his ex-wife published photos on Facebook which allegedly
show Mr. Seksan taking his meth.
In the Facebook posts she criticized the musician for
neglecting her and her children as he was always taking drugs or getting drunk. She also claimed Mr.
Seksan beat her time to time.
The image itself became viral on the online community, where
individuals doctored the image into more innocent-looking action like drinking orange juice or
blowing air into balloons.
Sek Loso eventually apologized to the public and agreed to
undergo a period of rehab. He was not charged with any crime; the police said drug addicts get
automatic amnesty from prosecution if they come forward and agree to be rehabilitated. Mr. Seksan
completed his rehab session in 2011.
Today, Mr. Seksan met with Pol.Gen. Adul Saengsingkaew,
chief of the Royal Thai Police, and told him that all the history of drugs use is far behind him.
He thanked Pol.Gen. Adul, who was the top official at the Office of the Narcotics Control
Board in 2010, for giving him a chance to cure himself of the drug abuse. Mr. Seksan said he had now
returned to his normal life with his family and resumed his music career recently.
The
singer also told Pol.Gen. Adul he has written and dedicated his new song to the police force. Mr.
Seksan said the song′s lyrics are about low-paid policeman who performs his service superbly to the
nation. He said he hoped the song would lend moral support to all the police officers.


Sek Loso projects
his style as a down-to-earth, bad boy rocker. His stagename – Loso – is a mock on the word
Hiso, which denotes the High Society, the elite, wealthy celebrities in
Thailand.