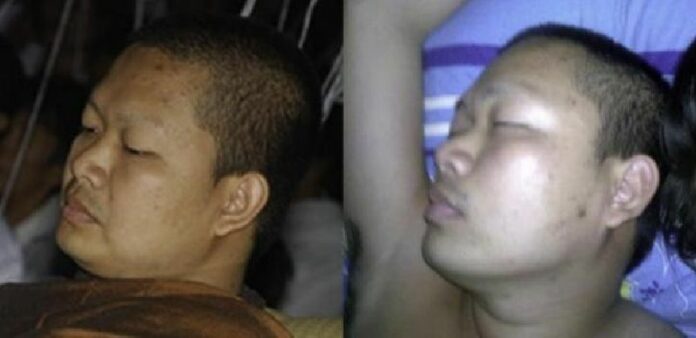 (25 July) Brother of the
disgraced ex-monk wanted by Thai police for his alleged massive frauds has claimed that it was he,
not the defrocked monk, who was in the photo sleeping next to a woman.
The monk, once known
as Luang Pu Nen Kham, was stripped of his monkhood by Buddhist officials after he was alleged of
possessing luxurious items such as mansions and sports cars – the sort of luxury denied to monks
under Buddhist doctrine.
The secular authorities also claimed to have uncovered millions of
baht in the ex-monk′s bank account, co-owned by his core followers, which are suspected to be part
of money-laundering scheme.
Additionally, The court has recently approved an arrest warrant
on the ex-monk, now known as Mr. Wirapol Sukpol, as requested by the Division of Special
Investigation (DSI). The Division has charged him with frauds and sexual abuse of an underage
individual.
However, Mr. Wirapol has not been in Thailand since the scandal erupted, and he
is thought to be currently residing in the US. The DSI has vowed to have him extradited to Thailand
and said they are cooperating with the American authorities on the matter.
Back in Thailand,
his followers attempt to salvage the reputation of their embattled spiritual leader, appearing on
press conferences almost on daily basis to counter the allegation made by the DSI. Their latest
press conference focused solely on a photo – surfaced on the internet a month a go – that purported
to show Luang Pu Nen Kham sleeping next to a woman.
Buddhist monks in Thailand are not
permitted to touch a woman – let alone sleep with them.
Mr. Suri Sukpol, 31, a younger
brother of Mr. Wirapol said at the press conference and insisted that it was him who appeared in the
photo. Mr. Suri said that when he was young, he caused
lots troubles such as consuming alcohol, and had sexual intercourses with many
women.

According to Mr. Suri, hehad been living
in monkhood for 9 years, since he was 14. His similarity to the former monk is not something new to
him, as when he was a monk, many people often mistook him for his brother.
Mr. Suri also said
that the woman seen in the photograph was the one who claimed to have a son with Mr. Wirapol, and
the same woman DSI cited as the victim of Mr. Wirapol′s sexual abuse, but he could not remember
where the photo were taken.
He vowed that he is willing to cooperate in the DNA test to prove
that the boy is his own son, not his brother's.
Mr. Sukhum Wongprasit, the follower who has
been essentially serving as Mr. Wirapol′s spokesman, added that Mr. Suri and Mr. Wirapol would hand
in all the information to Public Complaint Centre at the House of Parliament very soon.
Mr.
Sukhum declared that Mr. Wirapol will return to Thailand on 31 July to fight for his
name.
The DSI remains unconvinced. On the same day, Pol.Col. Chatchanand Metheedharmapon said
in a press conference that the DSI has found 6 spots which denote the difference between Mr. Suri′s
face and the person who appeared in the photo, such as his ear, nose, and mole.
Pol.Col.
Chatchanand said comparison between Mr. Wirapol and the sordid photo produces many striking matches,
therefore confirming its authenticity.
He said Mr. Suri and his family will be summoned to
talk with the DSI about the photo, and warned that if they would face charges if they give false
information.
Meanwhile, Dr. Med. Anake Yomchinda, director of Central Institute of Forensic
Science, said he is willing to test Mr. Suri's DNA, but his team had not heard from Mr. Suri and his
family yet.