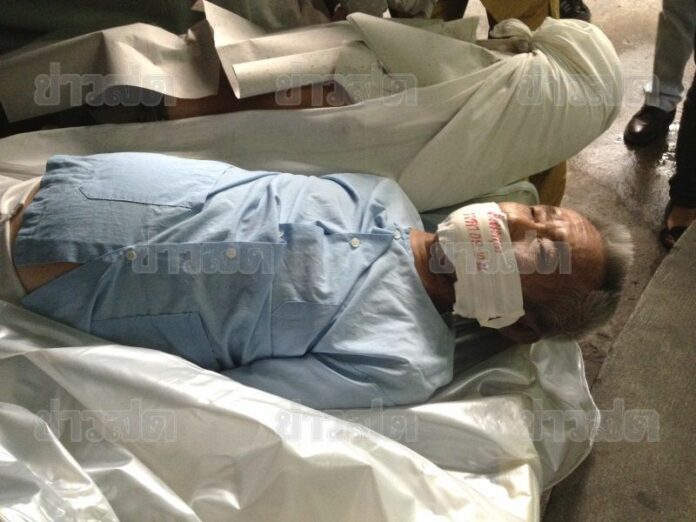 (9 August) A doctor told
the court yesterday that the elderly man jailed for allegedly insulting the monarchy did not receive
adequate medical assistance during his imprisonment – the negligence that ultimately led to his
death whilst in prison.
Mr. Amphon Tangnoppakul, famously known as ?Uncle SMS?, was accused
and later found guilty in 2010 of sending a secretary of then-Prime Minister Abhisit Vejjajiva
series of messages that the court deemed insulting to the monarchy. Mr. Amphon, who was 62 at the
time of his trial, was sentenced to 20 years in jail.
?Uncle SMS? later died of underlying
health problems on 8 May 2012, sparking uproar among civil rights activists who argued that lese
majeste (insult of monarchy) posed a threat to free speech in Thailand, while others criticised Thai
prison system for its disregard of inmates? welfare.
His wife, Ms. Rosmalen Tangnoppakul,
requested the court to investigate the circumstance of his death. The court has heard that the
autopsy, overseen by Dr. Kittibhumi Juthasmit, the director of Phoo Singha Hospital in Sri Saket
province, revealed plaques formed inside Mr. Amphon′s artery, covering up to 60% of the area. The
blocking resulted in Mr. Amphon′s fatal heart failure.
Dr. Kittibhumi said the prison′s
hospital should have had equipment to rescue Mr. Amphon before he died.
Such condition does
not require any specific equipment at all said Dr. Kittibhummi, They only need a tube and a
syringe to pump out the liquid in Mr. Amphon′s body, yet such basic equipment is somehow
unavailable in the facility.
The judges said they would make further announcement about the
specific cause of Mr. Amphon′s death again on 30 October.
However, for Ms. Rosmalen – Mr.
Amphon′s wife – the testimony is enough evidence that her elderly husband was mistreated and
neglected by the prison officials.
She tearfully told our correspondent she would use the
testimony as a basis of her lawsuit against the Department of Corrections for abandoning Mr. Amphon
to his death. She said she would sue the Department via the Administrative Court.
The royal
family remains highly sensitive subject in Thailand. Individuals convicted of lese majeste can face
up to 15 years in prison per offence.
Meanwhile, Prachatai reports that Asia Books, one of the
largest bookstore chains in Thailand, has ordered 2 book titles that touch on the Thai monarchy to
be withdrawn from their shelves. The decision was reportedly due to political
sensitivity.
The 2 books (both written in Thai) were Dream the Impossible Dream,
about the attempts by the royalist faction to regain power after the 1932 democratic revolution in
Siam, and Gentlemen-in-Waiting, which details the relationship between King Rama VI and his
male palace servants.