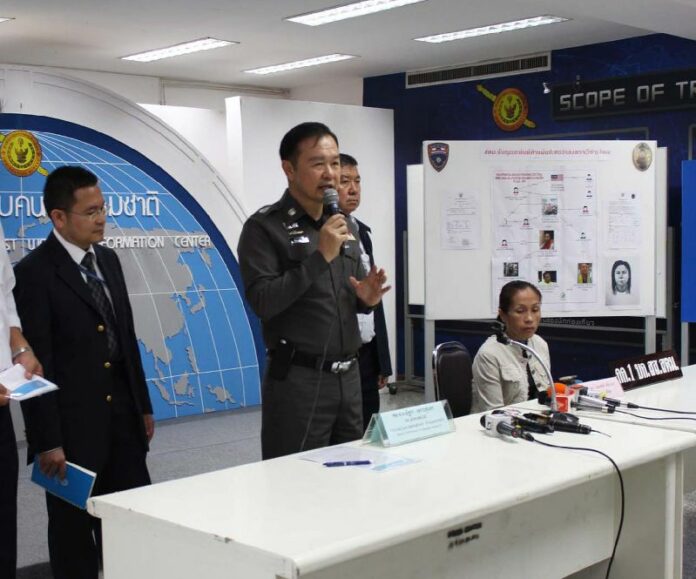 (12 September) The
immigration police said they have arrested the Thai woman who had been issuing unauthorised Thai
visas to a number of foreigners using visa labels stolen from the Thai Royal Embassy in
Malaysia.
Previously, the police have apprehended several foreigners who attempted to cross
the Thai borders with the visas which had been reported stolen.
The arrests led to a
stunning revelation that 300 visa labels had been missing from the Thai mission in Kuala Lumpur, and
some of the visas had been used in successful border-crossing.
The case has been considered
as the most serious breach in Thai immigration security in many years.
Yesterday, the
immigration police have announced in a press conference that they have arrested Ms. Piyamart
Bandasakdi, 39, in connection with the crime. A Cameroonian national arrested in Thai-Laos border
has indicated that he acquired his unauthorised visa from Ms. Piyamart, the police said.
Many
other individuals arrested in the same manner have also implicated Ms. Piyamart, according to the
police.
Ms. Piyamart has reportedly confessed that she was introduced to the trade of by an
Indian national called Mr. Kumar Rames (spelling derived from Thai text). Ms. Piyamart said she had
met the man in 2012. She told the police she charged her customers 30,000 baht per
person.
However, she admitted to issuing the stolen visa labels to only 3 individuals, 1
Nigerian, 1 Cameroonian, and 1 Filipino. While the Africans have been arrested, the Filipino
reportedly managed to return to the Philippines with the stolen visa.
Pol.Col. Chartchai
Iam-saeng said Mr. Kumar has a romantic affairs with someone in the Thai Embassy at the Malaysian
capital, which allowed him to have an access to the visa labels. According to Pol.Col. Chartchai,
Mr. Kumar also has connection with staff in other Thai Embassies.
The police are trying to
locate the Indian national, he said.