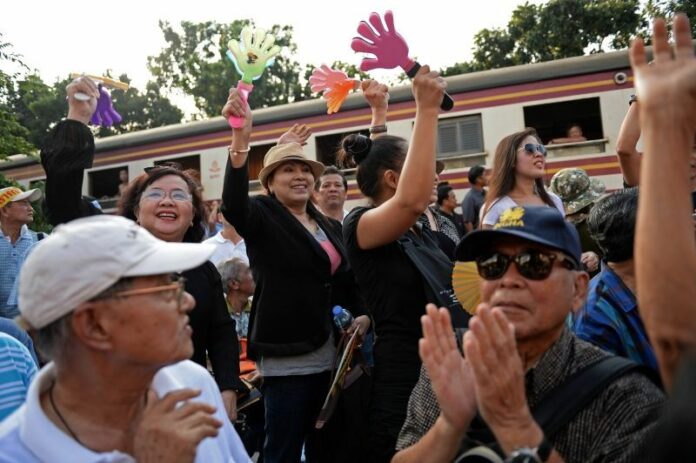 (31 October) Democrat MP, Mr. Suthep Thuegsuban, started a protest against the draft
Amnesty Bill, which has been through deliberation in the Lower House today.
The MP had led a
gathering of approximately 5,000 people who disagree with the decision made by the Phuea Thai-led
government to push the bill into the House of Representatives.
Mr. Suthep vowed on stage that
he had offered the government two choices; to dismiss the bill from the lower house for peaceful
results, or to pursue the bill and face massive uprising from the Thai people.
The Surat
Thani representative also warned that if any of the protesters were injured, the families of the
Cabinet would be in danger.
Our correspondent reported that at 17.00 pm, more people –
mostly from Bangkok – attended the protest.
Reportedly, many protesters had occupied the
railway, prompting the State Railway of Thailand (SRT) to send officers to manage the area.
By 18.00 pm, the democrat MP and his crowd blew whistles to mark the start of the fight
against the bill, as they vowed to fight for their victory.
For comments, or corrections to this article please
contact: [email protected]
You can also find Khaosod English on Twitter and Facebook
http://twitter.com/KhaosodEnglish
http://www.facebook.com/KhaosodEnglish