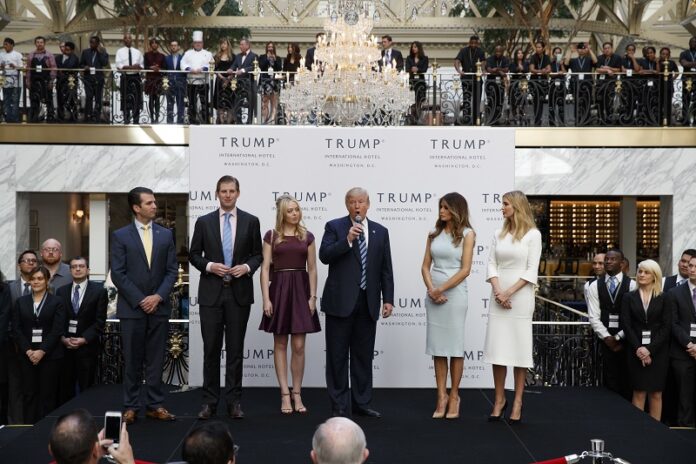 NEW YORK — Donald Trump says his business is "great," and you'll have to trust him on that. One of the few things an outsider can know for sure is that it's a complex and opaque hodgepodge of an empire scattered around the globe.
Trump has interests in 500 companies in about 20 countries. But many of them have no business operations and are just are shells set up to hold stakes in other companies, possibly to provide legal and tax protection.
A disclosure document in May listing the companies ran 104 pages, but revealed precious few details about how much each entity has borrowed, their profits, or purposes.
The details matter because government ethics experts note the possibility that Trump might be tempted to shape regulations, taxes and foreign policy to enrich himself or his business partners. Foreign governments could create plenty of trouble, too. They could seek to influence him by rewarding or punishing his business interests in their countries.
Trump has said he will separate from his business, but has provided few details on what that means. He is scheduled to discuss his plans at a news conference on Wednesday.
In a tweet last month, the president-elect said that "no deals will be done" while he is in office and that he will leave management of his company to two of his children, Donald Jr., 39, and Eric, 33, along with executives. As in his previous statements, he left open the possibility of retaining his ownership stake.
What makes the situation so perilous is that no modern U.S. president has owned so much, had it spread so far around the globe, and disclosed so little.
Still, plenty is known about his company, the Trump Organization.
– Trump's business ties abroad sprawl, but it's not clear they run deep. Trump owns little overseas. Since losing nearly everything in the 1990s from a debt-fueled foray into casinos, he's preferred to take care of his money and strike royalty deals that entail little more than renting out his name.
– Not every Trump building is owned by him. Many residential buildings bear his name, but many apartments in them have been sold off years ago. This is true of Trump Tower on New York's Fifth Avenue where he lives and works and through whose gilded lobby he has paraded his nominees for his cabinet.
– Ivanka, his 35-year-old daughter, is an executive vice president at the Trump Organization but also owns her own company selling clothes and jewelry. Her husband, Jared Kushner, is CEO of his family's real estate business. On Monday, after he was appointed a senior adviser to Trump, Kushner promised to step down from that role and sell some assets to comply with federal ethics laws.
Below is a cheat-sheet of sorts on Trump's holdings.
Over There
Trump has his name on hotels, residential towers and resorts around the globe, from South Korea and the Philippines in Asia to Uruguay in South America and Turkey in the Middle East.
In Indonesia, he struck a deal for use of his name and management services for a resort and residential building in Bali owed by the MNC Group, a real estate company run by a politically active businessman, Hary Tanoesoedibjo. In his May disclosure, Trump said he made between USD $1 million and USD $5 million in licensing fees for this deal in the prior 17 months, as well as for similar deals in Turkey, Panama, the Philippines and India.
His partner in the Philippines venture, E.B. Antonio, was recently named a "special envoy" to the U.S. by his country's president. Trump faced criticism after India's Economic Times reported that he held a meeting at Trump Tower in Manhattan shortly after the election with business partners in one of two Indian ventures, two residential towers in Pune in the western part of the country.
The Trump Organization said before the election that it was looking to enter new countries. In recent weeks it has been shedding some projects instead as the president-elect has come under pressure to separate from his business before assuming office.
Trump lawyer Alan Garten earlier this month said "exploratory" talks are off over a possible project in Pune, India, as well as one for five office towers in Buenos Aires, Argentina. The Buenos Aires project had been in the spotlight after media outlets reported that Trump tried to speed it along by mentioning it in a congratulatory postelection call from Argentine President Mauricio Macri. A Macri spokesman denied to The Associated Press that the subject even came up in the call.
The Trump Organization has also canceled licensing deals recently for hotels in Brazil, Azerbaijan and the neighboring country of Georgia.
Trump's tax returns might shed more light on his businesses abroad, but he didn't release them during the campaign, breaking decades of precedent. As president, he is not required to publish public financial disclosures until his second year in office.
Offices, Condos, Retails
Much of Trump's wealth is in just four buildings, according to Forbes magazine, which has been tracking his holdings for 33 years. Three of them are in Manhattan – a wholly owned office building on Wall Street and stakes in Trump Tower on Fifth Avenue and an office tower nearby in midtown – and one is in San Francisco.
Forbes' estimate for the four buildings, after subtracting out debt on them owed by Trump: USD $1.5 billion, or 40 percent of the president-elect's USD $3.7 billion total net worth. (Trump estimates his net worth at more than USD $10 billion and says the value of his brand name alone is nearly as much as the Forbes' tally of everything.)
Among many other properties, Trump also has investments in a Chicago hotel and one in Las Vegas and, of course, the new Trump International Hotel in Washington D.C. In the case of the latter, he doesn't own the building, but rents it from the federal government.
Golf Clubs
Trump has been busy adding to his portfolio of golf properties in recent years, and here he has been risking his own money by taking ownership stakes. It's a bold bet. The golf business in general is suffering as membership in clubs has fallen.
The Trump Organization has 17 golf courses in total. They include three in Florida, as well as links in California, New Jersey and New York. In 2014, Trump completed deals for Ireland's Doonbeg golf club and Scotland's Turnberry resort, the site of several British Opens. He has also struck deals to open two clubs in Dubai, United Arab Emirates.
Eric Trump, the president-elect's son in charge of the courses, told the AP last year that they were doing "fantastically." In his May disclosure, Trump reported USD $306 million in revenue from his courses, more than a third of that from the one in Doral, Florida.
Trump did not provide estimates of costs or profits from the courses, so it's not clear how much they are bucking the industry trend, if at all.
Suits and Sofas, Wine and Cologne
Don't think your "Make American Great Again" hat is quite enough? Not to worry.
You can wear Trump suits and ties, cufflinks and eyeglasses. You can dab yourself with "Success by Trump," a cologne that his website advertises contains hints of coriander and musk.
You can drink Trump Natural Spring Water or Trump wine from his vineyard in Virginia. You can do that in a Trump chair, next to your Trump sofa and sideboard, while reading "Crippled America," one of his many books.
Trump reported that the books alone generated between USD $1 million and USD $5 million in income over the 17 months prior to the May disclosure.
Other ventures aren't faring as well. The Trump Entrepreneur Initiative, the new name of Trump University, a real estate seminar firm, reported USD $13,000 in income in the May disclosure. Trump announced after the election last year that he would pay USD $25 million to settle three lawsuits alleging fraud at the school, but says he did nothing wrong.
Story: Bernard Condon