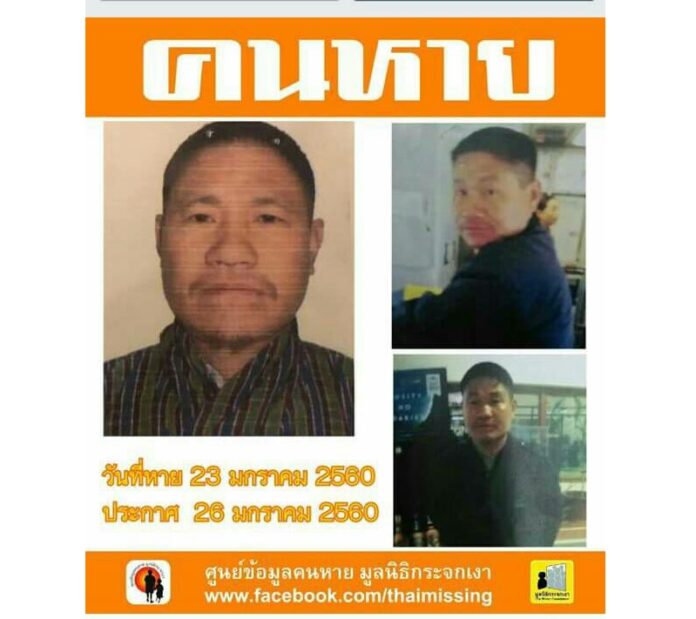 SAMUT PRAKAN — Nine days ago, a Bhutanese teacher walked out of his Bangkok hotel and just seemed to disappear.
Three days ago, police said a man resembling Harka Bahardu Sabba, 40, was seen 24 kilometers away in Samut Prakan province. He's reportedly been seen by witnesses several times since then, but police still can't be sure it's him.
"The last time he was spotted, yesterday, was only confirmed by a witness without proof," said Col Prasert Buakhao of Samrong Tai Police Station. "So we cannot confirm it was him."
The Bhutanese teacher, who was visiting with a delegation of educators, disappeared early on the morning of Jan. 23 from the Sena Place Hotel in Soi Phahonyothin Soi 11 where they were staying.
Bhutan Ambassador Tshewang Chophel Dorji met with police Wednesday for an update on the case and to express his gratitude for the effort being made to find Sabba.
The ambassador said he was surprised that Sabba, who only speaks Bhutanese, would have traveled so far. He said the teacher has four children back home.
Sabba traveled to Thailand with 10 other teachers for an agricultural training course. Some of his group continued on to Chonburi province. A missing person notice has been sent to police and publicized on social media.
A motorcycle taxi driver, Aduldej Phetroj, 39, said he saw Sabba twice but didn't know he was missing. The first time was on Soi Sukhumvit 107 on Thursday, then again on Friday. When he saw him on Friday, Sabba looked tired and had no shirt. The motosai taxi driver said he bought him a meal and gave him his shirt. Aduldej said the man could not communicate in Thai or English.
Samut Prakan's police commander said he has ordered all stations in the province to look for the man.
Traffic police radio released a video in Bhutanese should someone find him. The voice in the video says, "Please go with this person, they will take you to the embassy to take you home."
Those who have useful information are encouraged to call traffic police at 1808.