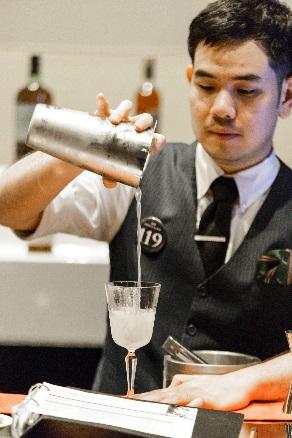 Diageo Moët Hennessy reveals top 5 contenders from Thailand's leading 5 bars before the most prestigious bartender competition DIAGEO Reserve World Class 2018 "Thailand Final" that is slated to happen soon. The talents also reveal their inspiration and aspiration for the national showdown in April.
If there is an international bartender competition that talents all over the world aspire to take part as an opportunity of a lifetime, it is definitely the prestigious DIAGEO Reserve World Class. A training and advocacy program as well as a competition, DIAGEO Reserve World Class has educated and inspired more than 250,000 bartenders in 60 countries all over the world since its inception. Diageo Moët Hennessy (Thailand) has embarked on the program since 2011. Besides searching for the best bartenders to represent Thailand in the annual final global, the program also enhances and elevates participants' skills and knowledge, raising the standard of Thailand's mixology scene with insights and extensive training from the world's best.
As the DIAGEO Reserve World Class 2018 "Thailand Final" is returning to shake up the scene very soon, Diageo Moët Hennessy (Thailand) reveals top 5 contenders from top bars in Bangkok and beyond. They are Tanakrit Seveesiricachorn from Sri Trat Restaurant & Bar (Bangkok), Dennis Thurner from Sooth Bar (Koh Samui), Thodsaphon Apiwattanasawee from DIBUKA Café & Restaurant (Phuket), Pitchayapong Joongklang from The Bamboo Bar (Bangkok) and Dedsakda Thianthong from Vesper Bar (Bangkok). 
The first contender, Tanakrit Seveesiricachorn from Sri Trat Restaurant & Bar in Bangkok, is a 28-year-old bartender that has been in the mixology scene for more than 7 years with experiences as part time bartender at events, bars and restaurants as well as bar owner before landing the current position behind the bar at Sri Trat Restaurant & Bar. According to him, mixology is an artform that communicates through senses of taste. Taking in as much details as he possibly can to tailor the most suitable cocktail for each customer, the bartender cites Spirit-Forward Cocktail as his forte where he uses more than one kind of spirit to enhance aand compliment the base.
"A cocktail's charm will shine if you really know the ingredients and their unique characters, as well as how to maximize them. I personally love the mix of flavors, and I always toy with the idea of mixing, bridging and perplexing the ingredients to fully enhance the recipe. To me, that's the most fun part in mixology," the bartender from Sri Trat Restaurant & Bar says.
Tanakrit has competed in DIAGEO Reserve World Class four times, and to me it's not just about winning. DIAGEO Reserve World Class is a platform that enhances his potential, allowing him to explore new flavors and techniques. 
Meanwhile Dennis Thurner from Sooth Bar in Koh Samui, Surat Thani, is a Thai-German aspiring bartender from Nakhon Si Thammarat. At 28, Dennis is a high school dropout that started working in hotels. His advantage in language was spotted by the hotel manager, prompting Dennis to soon become the hotel's bartender by default. He has only been a professional bartender at the renowned Sooth Bar for 1.3 year.  
"Being a professional bartender is so different from working in a hotel bar. When I was working in a hotel, I was not trained so I could only make the most basic classic drinks. At Sooth Bar, there is training, and they sent me to mixology course and that enables me to create my own drinks. I get inspiration from things around me, especially the fact that I'm an islander."
Dennis aspires to work in top bars in the US, and he is working his way to get there. DIAGEO Reserve World Class 2018 is his first try and even though he does not expect to win this time, anyone familiar with the program knows that anyone can be the black horse and snatch the crown.
In Phuket Thodsaphon Apiwattanasawee from DIBUKA Café & Restaurant is a 27-year-old bartender that earned a degree in food and beverage from Prince of Songkhla University Phuket Campus. He has accumulated experiences in cocktail bars since he was a student, before setting off his career as professional bartender at various restaurants. He also gave bar consultancy with friends, before landing a job at DIBUKA Café & Restaurant, where classic cocktails are the highlight. 
"Each of my cocktail creation came from a close observation of the customer. I often as them what flavors or fruits they prefer before crafting a drink I think would best suit their preference. So far I've been trying to improve my skills by watching bartender competition clips on YouTube. Being part of DIAGEO Reserve World Class gives me opportunity to receive training the helps improve my skills in many ways."
Thodsaphon first competed in DIAGEO Reserve World Class in 2016 and has not skipped a year since, and every time he prepared himself at his absolute best. This time around he primed himself by doing bar hopping to learn about different styles of drinks from various venues that gave him ideas and techniques that are different from his own. This is how he prepares himself to reach the top 10 in DIAGEO Reserve World Class this year.
Another aspiring talent to watch is Pitchayapong Joongklang from The Bamboo Bar at Mandarin Oriental, Bangkok. The skilled bartender, 24, graduated from Dusit Thani College. However, he was previously a non-academic kid that wanted to add value to himself by exploring various activities, until he found his passion in mixing drinks and doing flair. He practiced and was commissioned to work in various private events and started bartending professionally at Tep Bar, before landing current role at The Bamboo Bar.  
"When you're at the bar, you are faced with the diverse needs and preference of the guests, so it's important to fathom their needs on a daily basis. And it gave me precious experiences. My forte is twist cocktail where I take classic recipes and play around top better suit the customer's need, while at the same time maintain the integrity of the original recipes."
Now a full-fledge professional bartender, Pitchayapong promises himself that one day he would stand among world-renowned mixologists with similar ideology. But for now, he wishes for new experiences and meeting with people in the know that he could exchange ideas and know-how with. Joining DIAGEO Reserve World Class is just the experience he has been looking for.
The last contender, Dedsakda Thianthong from Vesper Bar in Bangkok in a 22-year-old newbie that has just started in the bartending scene two years ago. While doing a Bachelor's in business management, he realized that it the was not what his heart wanted to pursue, so he decided to quit and find his passion at the back bar. He was soon promoted to bartender and landed at job at Vesper Bar, a venue renowned for blending art and mixology
"I like to meet and mingle with people, which I think it's a decent trait of a good bartender. And this job requires me to do what I like. The more I learn, the more I become fascinated with the craft and the creativity that goes behind each cocktail. Mixology is a vast field and it inspires me to look everywhere for inspiration, whether when I'm eating food or sweets, or coming across new ingredients. I'm also an adventurous person, so this exploring new things with cocktails is a great fun for me."
Having watched countless of clips from DIAGEO Reserve World Class of the previous years, Dedsakda is determined to enter the competition this year. Last year was his first entry, and he even ended up in the final round. This time around he sets a new height for himself and pushes himself hard to become world class.
DIAGEO Reserve World Class 2018 "Thailand Final" is slated to happen in April 2018 with Thailand's top talents in the mixology scene competing across two days. The winner will represent Thailand in the World Class Global Finals 2018 in Berlin, Germany in August 2018. Who will walk away with the winning title? We will soon find out.