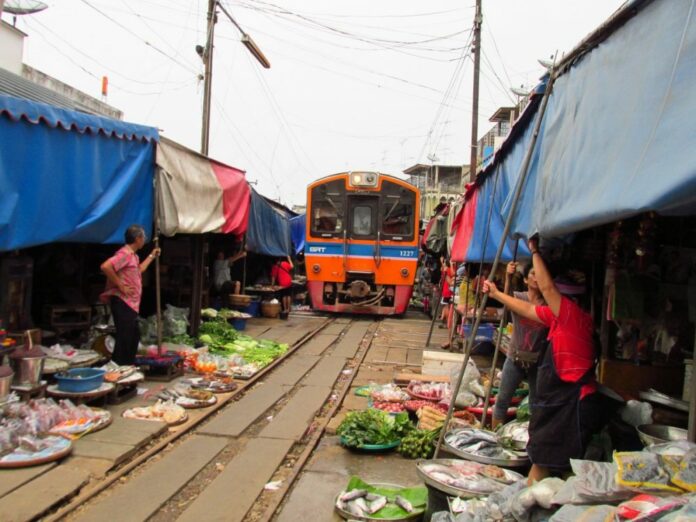 SAMUT SONGKHRAM — Vendors at a market renowned for scrambling to clear the way for passing trains were ordered Monday to make changes after it was featured in British media.
After a BBC video clip released last week showed a train pass directly over fresh produce, the Interior Ministry ordered stricter enforcement of hygiene standards at the Maeklong Railway Market, known locally as the "folding umbrella market."
The market must be cleaned three times a week instead of two, and every vendor must clean their stall daily, under the order. Signs in English and Chinese asking tourists not to leave trash must also be installed throughout the market.
Samut Songkhram Gov. Kanchat Tansatian said that, following inspection, all vegetables, fruit and meat sold must properly washed or cooked.
The order came down after the BBC clip, published Thursday, drew criticism online about what viewers saw as a lack of proper hygiene.
The Maeklong Market is visited by hundreds of tourists daily, mostly for the spectacle of vendors dashing to fold up their awnings and umbrellas moments before frequent trains pass through.