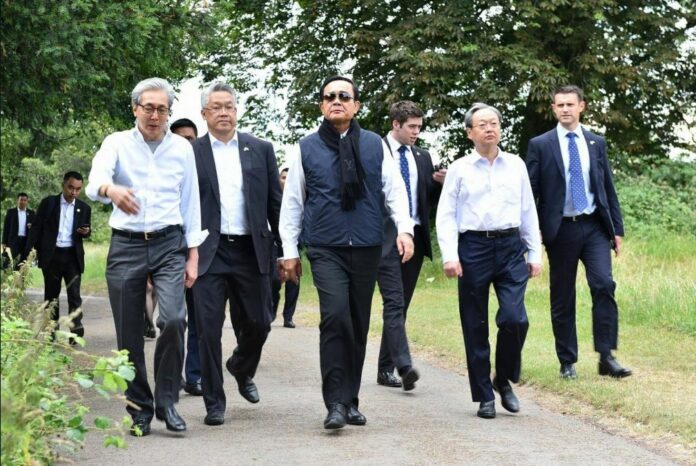 BANGKOK — Junta leader Prayuth Chan-ocha's visit to London this week has brought him to the same streets as a 56-year-old woman his government has threatened to extradite for sharing an article online.
Watana Ebbage, 56 of London, was charged last week with cybercrimes for resharing a story earlier this month about leaked government plans to spend more than 90 billion baht to invest in a US-built satellite network.
On her Thai People UK page, she openly supports the Redshirt movement and the Pheu Thai Party deposed in the 2014 coup by posting frequent news about the military government's scandals. Maintaining that she did not spread false information, Ebbage said there is no freedom of expression in Thailand, and the Interpol threat is meant to scare her into silence.
Read: Londoner Behind Anti-Junta Group Wanted For Insulting Prayuth
Watana said she left her small province near Bangkok in her late 20s and resettled in England. She started the Facebook page to support Thais living in the United Kingdom.
"You cannot change who you are. I was born as a Thai and I'm still Thai regardless of where I live," she said in a message.
From her motivation to challenge the junta from a continent away to whether she thinks the junta will seek her extradition, Watana replied to several questions sent her way. Her lightly edited responses follow.
'The great and famous dictatorial father of Thailand, Prayuth Chan-ocha. Smart or stupid? He used taxpayers' money to go to spend time in Europe, buy war weapons and satellites, just only to have his photographs shaking hands with leaders of democratic countries,' reads this Friday morning post on Thai People UK. Image: KonthaiUk / Facebook
Khaosod English: Who are Thai People UK?
Watana Ebbage: I am an ordinary woman from upcountry. I have been fighting the junta for a long time because I have tasted what good democratic politicians can do for us. The elite, which the junta represents wants to keep my people poor and uneducated so they can dictate how our country is run. The elite has a nasty and deplorable attitude toward poor upcountry people. I love my country as much as the next person and my country includes all kind of people who live here not just a few people in the capital. They can threaten me as much as they like but I will stand against them until they are no more.
KE: How did you find out you were wanted for re-sharing a news story? What was your reaction?
Watana: It was on Thai main media and televised when Maj. Gen. Surachet Hakpal, deputy commissioner of the Tourist Police Bureau, announced the arrest. Then it went viral on social media and it spreads quickly on the internet. This is not only targeting at me but there are 20 or more people who, just like me, shared my posts and were charged. It's a big joke. Only non-elected governments or a non-democratic country would do such a thing.
KE: How can the Thai government target you as a UK citizen for posting about its affairs?
Watana: They probably don't like me to speak the truth and criticise the way they run the country into debt. I want to speak for many Thai people who want to express their opinion but fear being arrested. There is no freedom of speech since the coup d'état took over the country in 2014. A lot of my Thai fellow citizens have been arrested for criticizing the corruption. The arrests have created fear for Thai people to not speak out, and this is the way the Junta wants to silence their own people.
KE: You posted an article that widely published on other Thai news sites about plans to spend more than 90 billion baht on spy satellites.
Watana: This is one of their many plans to sabotage the country budget. Whilst many poor Thais are suffering from economic recession the farmers suffer low commodity prices. Am I wrong to questioning the junta? The budget should be well spent to improve the quality of life for Thai people, not to spend on, for example, ammunition and satellites.
Top: [These people] bring prosperity to the nation … on a small salary. Bottom: [These people] bring devastation… with a huge salary. #SleepfortheNation,' reads a June 8 post by the Thai People UK Facebook page. Photo: KonthaiUk / Facebook
Related stories:
Activists Decry EU For Welcoming Prayuth
Londoner Behind Anti-Junta Group Wanted For Insulting Prayuth
Thailand to Spend Billions on Satellites From Unknown Company