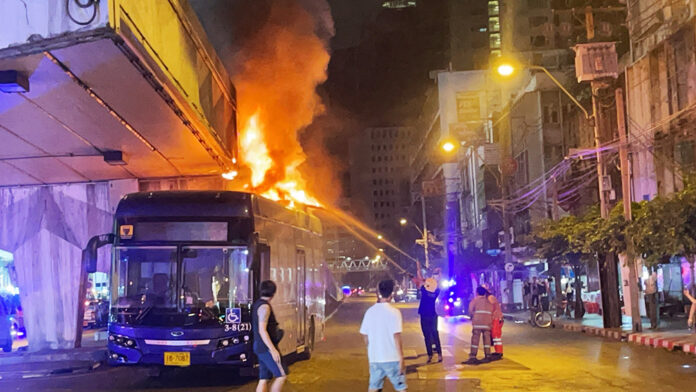 A fire broke out on a BMTA electric bus under a flyover over the Pratunam crossing on Phetchaburi Road in the Makkasan Subdistrict of the Ratchathewi District, Bangkok, on Saturday night around 11:30 p.m.
Firemen sprayed water on the roof of an air-conditioned EV bus on the Ramkhamhaeng University-Victory Monument line. It took about thirty minutes to put out the fire.
Fortunately, there was no passenger at the moment.
The driver Wanlop Phromyamyai, 61, stated that he drove out of the Ramkhamhaeng University 2 bus depot. When he arrived at the Pratunam intersection, he noticed a vehicle parked in the left lane. So, he turned the car and moved to the right lane. However, he didn't see a bridge beam sticking out above, which caused the car's roof to hit the bridge beam and stop it.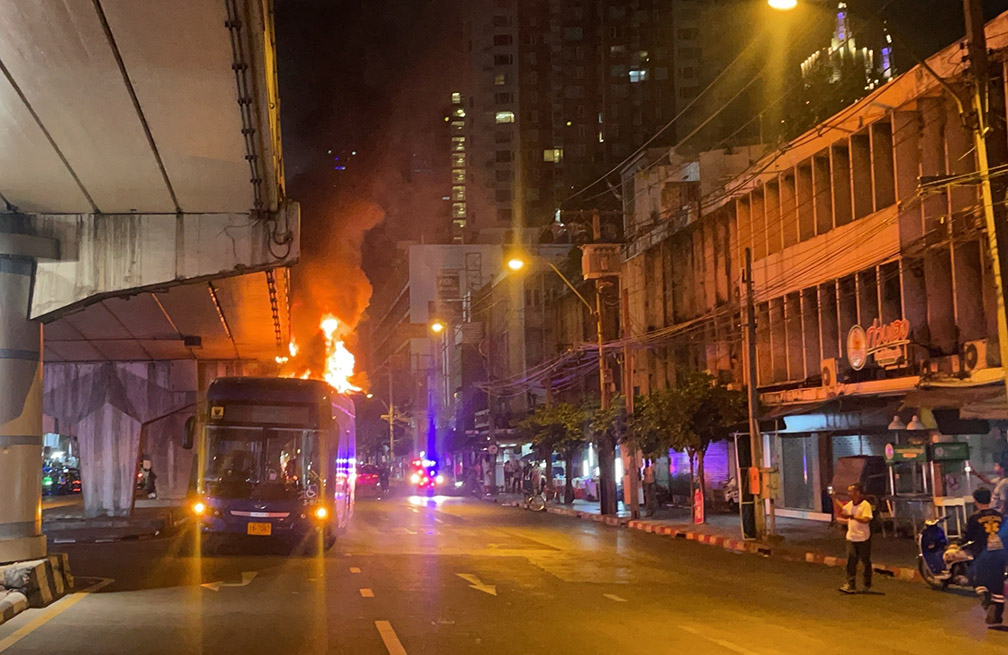 He then informed the bus depot that the car was in an accident. The guys there said they would send someone in to investigate. While waiting for the mechanic to arrive, a detonation was heard on the car's roof, followed by a fire. So he promptly contacted the police.
Later, the police told a forklift driver to pull the bus away from the scene of the accident so that traffic could move again. The driver was charged with causing damage to property by careless driving.
The authorities suspected it was caused by a bus hitting with the bridge beam, which caused the car's electrical system to short circuit, causing it to explode and catch fire.