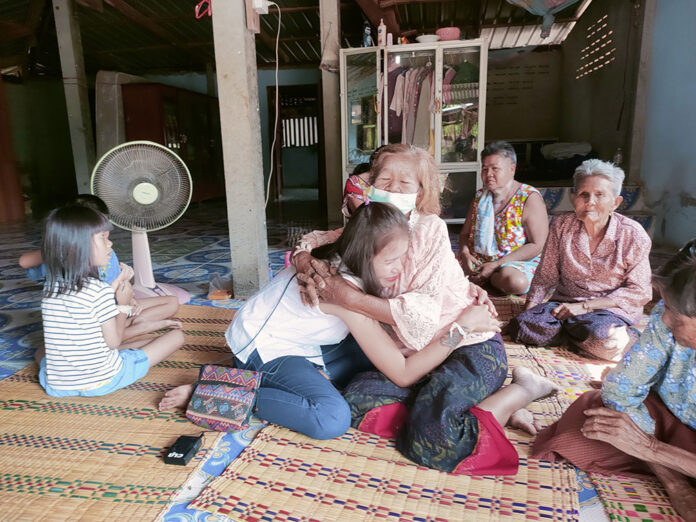 A heart-touching story was reported from Ban Si Liam, Khao Khok sub-district, Prakhon Chai district, Buri Ram province, where a mother and daughter reunited after more than 30 years of separation with the help of social media.
Both the mother and daughter hugged each other immediately after the meeting. Their relatives held a blessing ceremony to celebrate the reunion according to traditional rules. This is good news before the Songkran festival.
The Khaosod reporter met with the mother and daughter at house No. 103, moo. 2, Ban Si Liam, Khao Khok sub-district, Prakhon Chai district, Buriram province, with Suwan Thothong, 59, the mother, and Sangdao Thothong, 33, the daughter, on April 11. Locals and relatives expressed their joy at this reunion.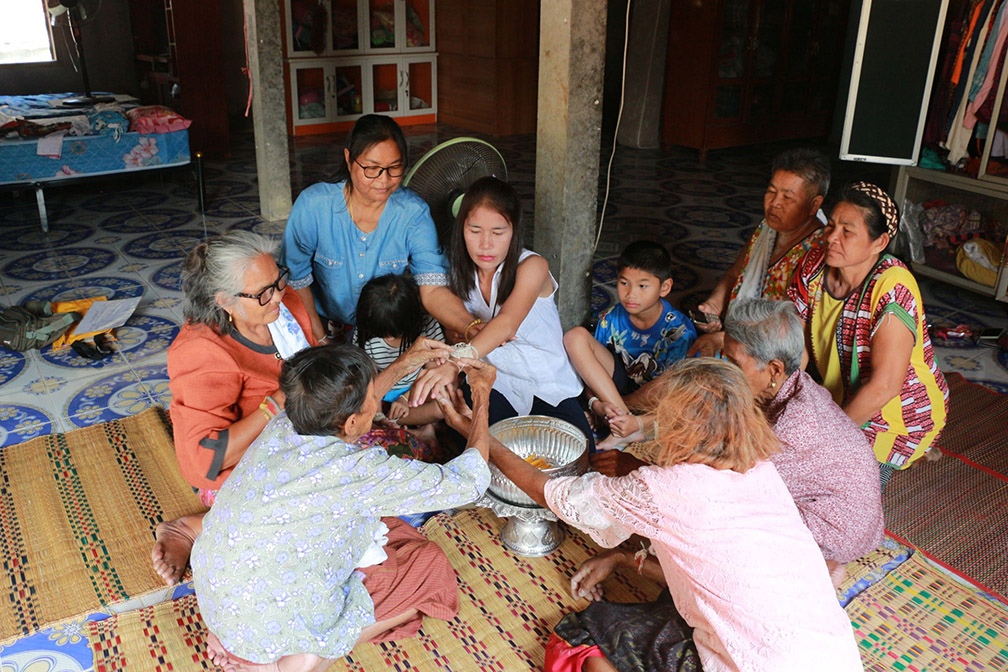 Suwan said that her husband, who is from Si Sa Ket province, and she had a problem that led to their separation when their daughter was about a year old. Her husband took the daughter away. She had tried to find her daughter but failed to find both her husband and her daughter.
Her relative tried to look up her daughter's name on Facebook and eventually discovered the daughter's account. The relative made an effort to engage the daughter, and they soon began conversing.
The daughter informed the relative via the internet that her father had passed away and that she was now married and having children.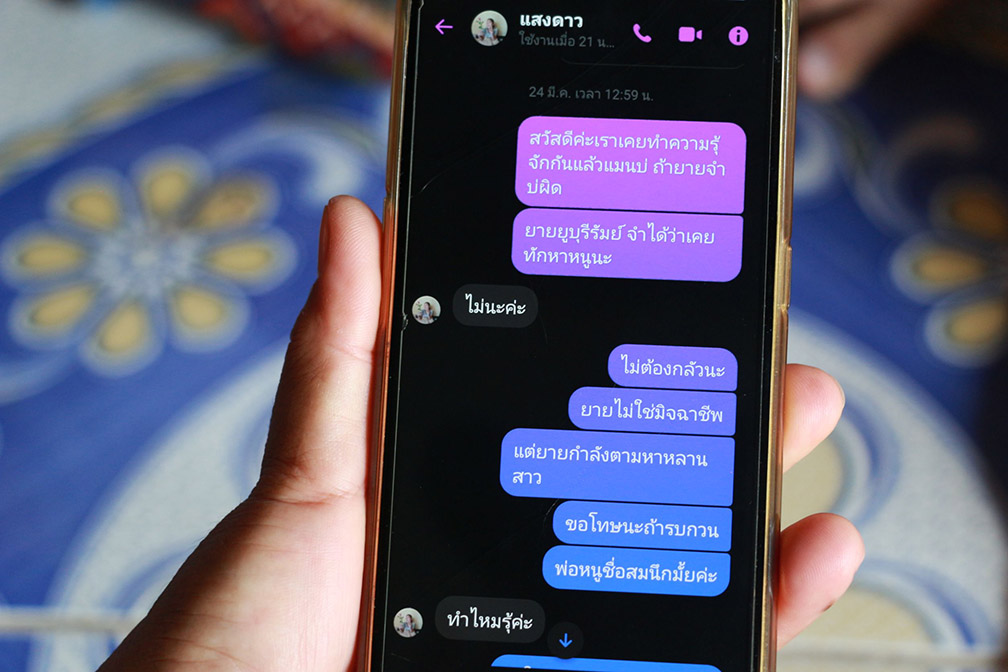 Sangdao, who had not seen her mother in 33 years, arranged her trip to the Prakhon Chai area in Buri Ram province after becoming certain that they were the long-lost mother and daughter, while Suwan was so excited to see her daughter because she had lost hope of seeing her again.
Sangdao told the reporter that when her father brought her to Si Sa Ket, she was only 1 year and 3 months old and could barely remember anything. She finished school at 19 and went to Bangkok to work. She got married when she was 25 years old. She now has 2 children: an 8-year-old son and a 7-year-old daughter.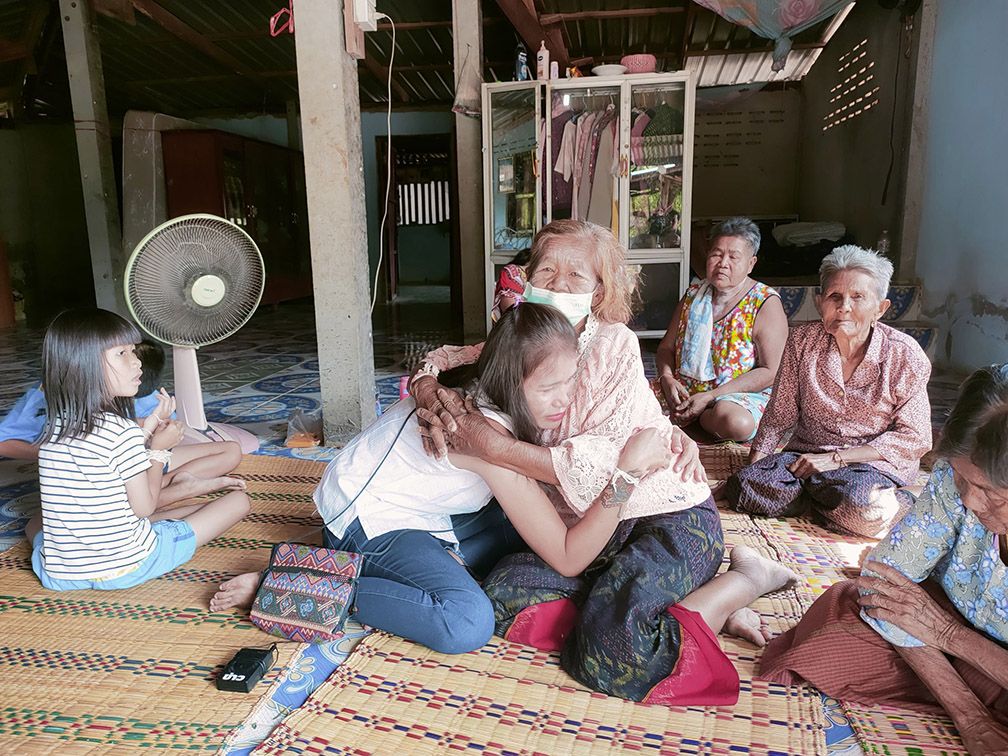 She had been trying to find her mother for the last 30 years but had no information. The only thing her father told her was that her mother lived in Prakhon Chai district in Buri Ram province.
Until a relative of her mother approached her through Facebook and asked if she was a daughter of Somnuk and Suwan. She answered in the affirmative based on a study record where both parents' names appear. They kept in touch until she found out that her mother was still alive and she wanted to meet her as she could barely remember her mother's face.
"When I was sure that it was my long-lost mother, I contacted the relative and travelled to Prakhon Chai district in Buri Ram province. When I saw my mother for the first time, I was overjoyed. I had never thought I would see her again. I thought she had passed away. I want to visit her often and hope she is in good health," said Sangdao.
_______